Painting animals in water colours Horse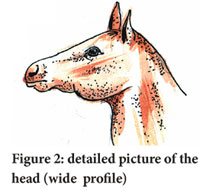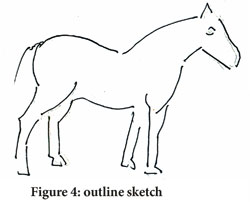 In this series of painting animals, this is the second exercise for children. The horse is another popular animal for artists to paint. It was one of the first wild animals to be tamed and used to live with man. In western countries the horse has been used for a wide range of jobs - ploughing, pulling heavy loads, hunting, riding, racing and performing in ceremonial events.
The horse skull is quite complex. It has many small bumps, hollows and curves. Start painting an outline sketch by using a soft pencil No. 2B.The anatomy of the animal has to be studied to avoid problems in painting the whole animal. Notice the outline done on top of figure 1 and bottom the head shows a simple pale colour is applied to show the skin texture.
The figure 2 gives you a detailed picture of the head from the side profile. Study the way the bone under the skin by using a dark shade and using very fine dot stipple. Observe the big eyes, heavy upper eyelids with long lashes and paint them using a soft brush No. 2 (sable hair). Copy the illustration on figure 3.
The head from the front is rather like the shape of a coffin (the outline shown on the left) and a complete drawing shown on the right.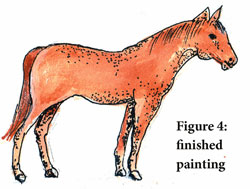 My outline sketch of a horse on figure 4 gives you an idea of the general build of the animal. An accurate basic form is drawn before applying paint. After the pencil sketch is completed the first layer of colour applied must be very faint. The brightest brown which outline the pure white of the paper painted. The head of the horse is clearly shown with dark sienna and burnt-number tones, once the initial layer is dried. Once the principal shading is over, you may pay special attention to finish the complete painting by very fine dot stipple with ink pen or the tip of the brush and blends into the just painted wash.
The first applied background colour can be changed into grey, brown, black or white which is the usual colour 'texture' of a horse.
For any child to improve in water colours he must always practise whatever the subject be. Painting animals, especially horses, attracts the attention of many art lovers.