Cover Story
Kumaratunga Munidasa- a well-known Sinhala writer
Our cover picture is a scene from a play this versatile writer has written. We give our little readers some news about this well-known writer and we are sure you will value this information.
---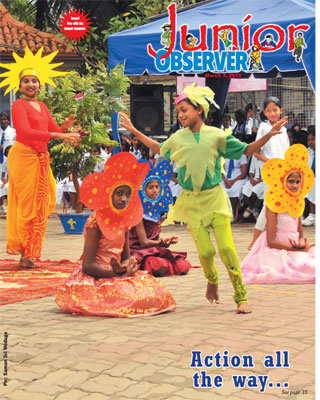 Kumaratunga Munidasa, entered the Buddhist School in Dikwelle for his early education. Later he attended St. Thomas' College in Matara. After that he went to the Dikwella Watarukanna Pirivena to learn Sanskrit and Pali to become a Buddhist monk. However, due to the dissatisfaction of his family, Kumaratunga Munidasa left Dikwella Watarukanna Pirivena and attended the Government Teachers' College, Colombo in 1905. He graduated in 1907, after two years of training. Kumaratunga Munidasa wrote Nikaya Sangraha Vivaranaya,his first book, while he was still in school.
He wrote many books in many languages - in Sinhala, English, Sanskrit, Pali, Tamil, Greek, Malayalam and Latin. Munidasa revived the Lakminipahana, one of the oldest Sinhala newspapers.
He also started two magazines to promote and teach the correct way of using the Sinhala language.In 1941 Kumaratunga Munidasa founded the Hela Havula (Pure Sinhala Fraternity), a Sinhala Literary Organization. The organization consisted of many people who shared Munidasa's idiom. They frequently engaged in debates that centred around many aspects of literature.
Hela Havula is considered as a starting point for many Sri Lankan artistes and scholars. The organization is still active and helps many young artistes to sharpen their literary skills. Munidasa always used to point out that Country, Language, and Nation were his triple gems, and also stressed the importance of the Sinhala language, as being the emblem of national identity of the Sinhalese. He was awarded the Viwarna Swakthi title for his excellent work on the history of Sinhala Literature.
Munidasa Kumaratunga passed away on March 2, 1944 at the age of 56.
---
Back Cover Story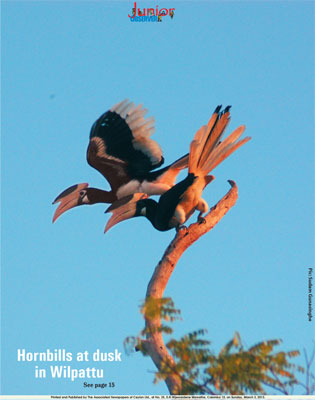 This is a picture of the Malabar Pied Hornbill taken through the lenses of Sudam Gunasinghe on a visit to Wilpattu. He captured this pair of hornbills attempting to take flight after mating which is a natural phenomenon among hornbills. The Malabar Pied Hornbill (Anthracoceros coronatus) also known as lesser Pied Hornbill, is in fact a hornbill.
Hornbills are a family of tropical birds. The Malabar Pied Hornbill is a common resident breeder in tropical southern Asia from India and Sri Lanka East to Borneo. Its habitat is evergreen and moist deciduous forests, often near human settlements.
During incubation, the female lays two or three white eggs in a tree hole, which is blocked off with a cement made of mud, droppings and fruit pulp.
There is only one narrow aperture, just big enough for the male to transfer food to the mother and the chicks. When the chicks have grown too large for the mother to fit in the nest with them, the mother breaks out and rebuilds the wall, after which both parents feed the chicks.
The Malabar Pied Hornbill is a large hornbill, at 65 cm in length. It has mainly black plumage apart from its white belly, throat patch, tail sides and trailing edge to the wings. The bill is yellow with a large, mainly black casque. Females have white orbital skin which is not there in the case of males. Juveniles don't have the casque.