Mattala: A new chapter in Sri Lanka's air travel
A new page was turned in Sri Lanka's history last week with the opening of the Mattala Rajapaksa International Airport (MRIA).
The airport which was designed by local engineers will become one of the most sophisticated and the modernised airports in the Asia.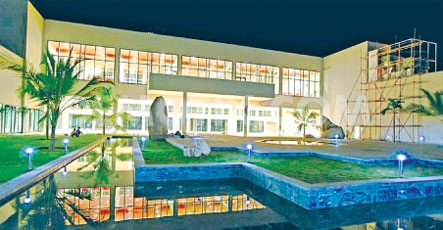 Air travel experts said that construction of a second international airport was a long-felt need and that the move would boost air travel to and from Sri Lanka and enhance trade.
The airport will provide a large number of jobs to people in the South and spearhead economic growth.
Construction work on the first phase of the $ 200 million airport began in November 2009. The new airport is expected to expand the local aviation industry while being a catalyst for the country's economic development enabling international trade, tourism, vocational training and employment.
It has been implemented as an eco-friendly project. The airport covers a land area of 2,000 hectares.
The runway of the Airport is 3,500-metre-long and 60-metre wide and 7.5-metre shoulders have been designated 'Code F' by the International Civil Aviation Organisation and could handle Airbus A380 aircraft. State-owned SriLankan Airlines and Mihin Air and Air Arabia will be among the first to commence operations at the Mattala airport. Officials also hope to draw courier planes and negotiations will commence with UPS, Fedex and DHL. The Mattala international airport will also be an option for airlines that fly to destinations in the African continent. The new airport with hangars for aircraft repairs and maintenance will be an attractive place for airlines.
The airport could handle one million passengers and 45,000 metric tonnes of cargo. In the second stage it could be expanded to five million passengers and 150,000 metric tonnes of cargo.
Sri Lankan entrepreneurs said that the new airport marks the beginning of a new chapter in Sri Lanka's economic development.
The airport has been constructed centering the districts of Matara, Hambantota, Moneragala, Ratnapura, Badulla and Ampara. It is expected that the new airport will generate several thousand employment opportunities for the youth in the surrounding areas and would boost the standard of living and economic activities of these districts immensely.
Emirates Airlines was one of the airlines that flew into the airport during the inauguration ceremony.
Many foreign airlines have decided to use the new airport for their flight operations. They include Emirates Airlines, Air Arabia, FlyDubai, Korean Airlines, Etihad Airlines. In addition Sri Lankan Airlines and Mihin Airlines will lso perate flights to several destinations from Mattala.
(niz)