Automation, the key to effective trading
Minimising human intervention is vital to create an effective trading environment at the Customs, said Director General of Customs, Jagath P. Wijeweera at the launch of an electronic export clearance system based on ASYCUDA World (AW) software for the Customs.He said that automation of the Customs clearance system is an important trade facilitation initiative. We have already implemented electronic payments, e-vehicle clearance system, Direct Trading Inputs(DTI) facilities and e-cargo manifests.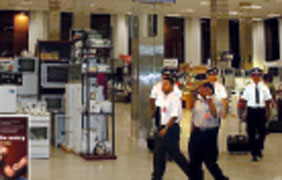 To improve the efficiency in key functions of revenue collection and board control, the Customs Department believes that in today's context trade facilitation using automation has to be a key priority to service the trading community and their service providers.
He said that the new system would reduce processing time, the number of documents used and direct and indirect cost incurred during clearance of export shipments. It is intended to achieve these objectives by automation of the export processing system and minimising human intervention in a paperless environment.
Transition will be difficult at the beginning because there will be resistance from the Department and the traders. It is a challenge and success depends on how we face the challenge, he said. The Automated System for Customs Data (ASYCUDA) is a computerised system designed by the United Nations Conference on Trade and Development (UNCTAD).
The country's largest export earner, textile and apparel will be the first to connect with the system and the Secretary General of the Joint Apparel Association Forum (JAAF) said that this is a timely and important trade facilitation initiative by the government.
With the introduction of new system, the changes will be: * To process eCusdec without hard copy and the physical presence of the declarant at the Customs export processing centre, * to collect the examination fee along with the other payments, * to automate the selectivity for physical examination and * to establish an examination point within port limits or in close proximity to the port. The new FCL and LCL procedures too have been introduced.
It has been proposed to charge a flat rate as examination fee for all exports irrespective of whether the shipment is selected for examination or not. The amount will be determined by the Customs after a careful analysis of the present fee structure.
To facilitate the new procedure, exporters and the container freight station operators should have access to the Customs system.
Therefore, exporters and the container freight station operators should enter into an MoU with the DG of Customs to obtain a VPN Certificate and user name and password to access the Customs system.