Ceylon Oxygen launches air separation plant
Ceylon Oxygen Limited (COL), a member of the Linde Group, inaugurated its new air separation unit (ASU) at Sapugaskanda recently.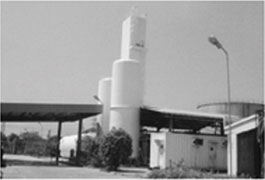 The new state-of-the-art air separation plant, built with an investment of Rs 1.3 billion (EUR 9.3 million), can produce 62 tons of gaseous oxygen, nitrogen and argon per day (tpd) for the merchant gases market.
Ceylon Oxygen, Chief Executive, Niran Pieris said, "Our new air separation plant is COL's second and the largest air separation plant in Sri Lanka and further reinforces COL's position as a leading industrial and medical gases player in the country."
"This new plant also represents a milestone in the industrial gases market as it will produce argon and make Sri Lanka self-sufficient in it. The plant is energy efficient, allowing us to lower our energy costs and pass on the savings to customers," he said.
Regional Managing Director responsible for Linde's gas business in South and East Asia, Bernd Eulitz, said, "Our new ASU will significantly increase our production capacity and enhance our product and service offerings to customers in the hospital, ship-building and ship-repair, steel, glass, food and chemicals sectors."