Logiventures to set up logistics hub in Hambantota
Logiventures, the logistics services subsidiary of the Hayleys Group, has invested in eight acres of land close to the Magam Ruhunupura Mahinda Rajapaksa Port in Hambantota to build a state-of-the-art logistics hub to support its vehicle transit facility, which was opened in June last year.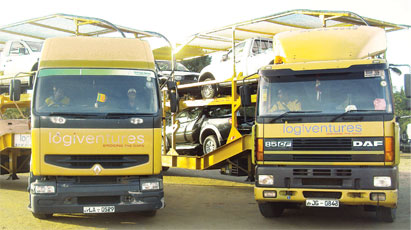 The expansion of the company's automotive logistics operations in Hambantota will offer vehicle importers a wide range of services ranging from pre-despatch inspection to closed storage and comprehensive transport solutions, a company source said.
"Over the past 11 months, Logiventures has accounted for 70 percent of the new vehicles cleared at the Hambantota Port and we believe an expansion of our infrastructure is warranted," Logiventures Director Janitha Jayanetti said.
He said the company's yard of 3.5 acres, one of the largest in Sri Lanka, within a kilometre of the Hambantota port, enables the company to transport up to 60 units a day from Hambantota.
Logiventures has constructed loading ramps, designed and manufactured in-house, to meet the needs of customers and the vehicles they import and has trailers ranging from 15 to 90 feet to carry any type of vehicle or truck weighing up to 80 tonnes, Jayanetti said.
All Logiventures car carriers are GPS monitored.