Evilard watches now in Sri Lanka
Swiss wrist watches are world-renowned for its precision and design. Many prefer to have a Swiss watch on their wrist. It is not simply a time teller, but synonymous with social status.
The owner of the 'Evilard' brand, Nicolas Voyame, visited Sri Lanka and demonstrated how to make a watch at the 'Commons,' restaurant in Colombo. An Evilard showroom was opened at 'Commons' restaurant by Swiss Ambassador Thomas Litscher.
Voyame said that his hand-made watches catered to an exclusive class. It takes a day to manufacture one watch as every piece had to be fitted with meticulous care to make an excellent watch, as it has 300 pieces which needs to be fitted part by part.
Ambidextrous Voyame, said that his company was set up by his great great grandfather in 1948. It is now run by the fourth generation.
According to Voyame, his greatgrandfather Fritz Stuck Sr. was born in 1889. After completing his schooling, he wanted to be a farmer and asked his father to buy him a horse to start his career.
However, his father disagreed and Fritz decided to do an apprenticeship in watch-making.
After World War II, with the watch-making industry in full swing, Fritz moved to Evilard to set up his own brand with the help of his sons, Fritz Jr. and Samuel where the Evilard watch was born.
He said that the watch-making industry had been successful in many countries, which prompted the Stück family to continue the business. During the industrialisation era, the industry experienced good demand for its watches.
Although they are a small player in Switzerland, they manufacture exclusive watches to the market. "We could be considered as niche players in the watch market," he said.
However, the passion to make watches never left them. One of the grandchildren spent most of his time in his grandfather's workshop, examining watches, which to him were real treasures.
"My great greatgrand father's discoveries, his inspiration and his passion led to the passing of the know-how of making watches through the generations," Voyame said.
Even after the founder's death, the business continued, uniting brothers and sisters, husbands and wives to date, Voyame reminisced.
"Today I run the business with six people, manufacturing 30 watches per month and more than 300 watches per year, which is a small operation. They are sold in many parts of the world. I am also happy to expand my business in Sri Lanka with the opening of this showroom," he said.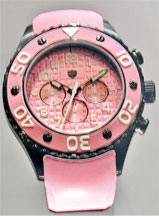 An Evilard watch cost more than one million rupees and caters to an exclusive and up-market segment. But all materials used for the manufacture of watches are of high quality, which gives it an elegant look and is guaranteed for a life time, he said.
Swiss watches have created a benchmark in the international watch industry, which has registered remarkable growth. The majority of Swiss watches purchased by tourists are mainly from Asian countries.
Many Chinese, Japanese, Russians and people from the Arabian Gulf, value Swiss-made watches and major Swiss manufacturers such as Rolex SA, partner with the Swiss Tourist Board which promotes their watches on its homepage and in its promotional materials.
The top 10 watch manufacturers in the world are Swiss companies, holding a market share of 85 percent. The top players are Swatch Group AG with 44 percent, followed by Rolex SA with 12 percent.
Watch manufacture in Switzerland is decentralised with a large number of first class watch producers.
According to trade sources, the Swiss manufacture around 50 percent of the expensive watches produced in the world.
During the recent past, Swiss watches had strong growth due to its elegance, quality and durability.
All watch manufacturers work on innovative designs for luxury and low-priced watches.