Biz Briefs
TFC tops brand ranking

The Brand Finance Ratings of 2013 records The Finance Co. PLC among the top 50 most valuable brands in Sri Lanka. The current ratings follow an in depth research conducted by Brand Finance PLC as compiled in the 5th annual brand valuation edition.
The Brands Annual 2013 analysis, published by Media Services Ltd and presented by Brand Finance PLC is a comprehensive detailing of Sri Lanka's leading brands. The brand rating criteria is dependent on brand consumer perception, brand presence in relation to its competitors, strategic leadership, sustainable corporate communications, return on investment, product growth and market share.
---
Gamika de Silva heads SLIM

The Sri Lanka Institute of Marketing (SLIM) recently elected a new Executive Committee and a Council led by Senior Manager, Marketing (Postpaid and Broadband), Etisalat Lanka (Pvt) Ltd, Gamika de Silva, for 2013/14, at its 43rd Annual General Meeting at the Cinnamon Lakeside.
As the new SLIM President, Gamika de Silva assured members that the new Committee and Council will work to achieve the objectives of SLIM. "My objective is to consolidate and reinvent to ensure that we achieve greater and more sustainable results," he said.
---
BOI laws highlighted at seminar
Supportive government policies, incentives for investments, the much imperative laws, regulations and procedures of the Board of Investment (BOI) was the focus at a recent seminar organised by the Institute of Chartered Accountants of Sri Lanka (CA Sri Lanka).
Director, Research and Policy Advocacy Department of BOI, Ms. Champika Malalgoda and Director, Investor Services, Zones of BOI, Mahinda Ramanayake gave an overview of the regulatory framework and the import and export procedures for BOI projects.
---
Kapila Liyanage appointed Copyline Director
Copyline, subsequent to the share purchase agreement with MTI Corporate Finance, has appointed Head of Operations, MTI Corporate Finance, Kapila Liyanage to their Board.
"Given Kapila's diverse experience in consulting and corporate finance, we look forward to a fresh perspective that he will bring to the board of Copyline. We also expect his appointment to strengthen the relationship between MTI Corporate Finance and Copyline," said Copyline Chairman Mano Tittawella.
Copyline is a design and print house which provides solutions for publishing needs.
The Copyline Board comprises Chairman Mano Tittawella, Deputy Chairman Lasantha Peiris and Directors Keith Blom, Ms Hemamala Ratwatte and Kapila Liyanage.
---
MoU to set up Lanka-Seychelles Business Council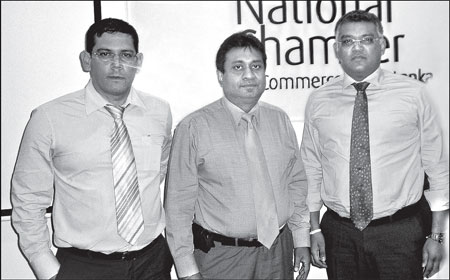 President of the Seychelles Chamber of Commerce and Industry, Marco Francis met officials of the National Chamber of Commerce of Sri Lanka recently to discuss the setting up of a Sri Lanka-Seychelles Business Co-operation Council and signed an MoU between the two organisations. Here President of the Seychelles Chamber of Commerce and Industry, Marco Francis, Deputy President, National Chamber of Commerce, Sujeiva Samaraweera and Chairman, NARA, Dr. S.G. Samarasundera at the meeting.
---
HP launches EliteBook Revolve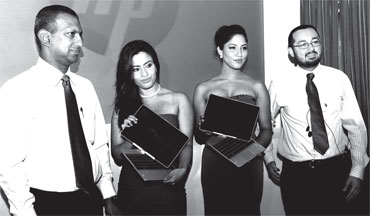 HP last week launched its convertible tablet, the HP EliteBook Revolve, a touch-enabled notebook.
"With the ability to transform it with the flick of the wrist to deliver a convertible computing solution to match any need, the HP EliteBook Revolve is designed for businesses that need an ultra thin notebook and a touch-enabled tablet", a spokesman for the company said.
"Driven by the latest, third-generation Intel Core processors and optimised for Windows 8, the HP EliteBook Revolve offers performance and visuals of a full-power notebook with the flexibility of quickly switching to a tablet with a touch-enabled High-Definition (HD) display," he said.
HP Sri Lanka General Manager, Printing and Personal Systems Group, Shamal Reshanka de Silva said that employees want computing devices that work the way they do, flexible and able to adapt to any situation.
---
Commercial Credit gifts car to Aquinas Walk winner
Commercial Credit recently gifted a new Suzuki Maruti 800 cc car as the first prize in the 'Anniversary Walk' conducted by the Aquinas University College.
Nearly 2,000 people took part in this walk. Among them were several past and present students of the Aquinas University College and friends and well wishers from all parts the country.
The Suzuki Maruti car was won by Ms. A. Inthumathy of Colombo 15.
---
Odel rewards sales staff
Odel's annual Employees of the Year awards recognises the top three retail personalities of the year and the top three supervisors of the year.
Odel's Retail Personality of the Year for 2012 was Kumar Dhinaswaran, and the first and second runners-up were G. K. S. Priyankara Perera and Ms. A. A. M. Subani Wijesinghe.
Odel's top three supervisors of the Year for 2012 were Ms S. H. Dilani Wanamali, S. Eranga Samarasinghe and Mohammed Ziyad Farook.
---
NCCSL signs MoU with Belarusian CCI
A 10-member business delegation from the Belarusian Chamber of Commerce and Industry (BelCCI), Belrussia, Eastern Europe, visited the National Chamber of Commerce of Sri Lanka (NCCSL) recently to explore business opportunities in Sri Lanka.
Deputy Director General, Minsk Department, BelCCI, Ms Dubova Tatsiana, made a presentation.
Senior Deputy President of the National Chamber, Thilak Godamanna chaired the meeting. Chamber officials were present.
An MoU was signed between the NCCSL and BelCCI at the Chamber office. Ms Dubova Tatsiana signed on behalf of BelCCI and Thilak Godamanna signed on behalf of NCCSL.