Cover Story
Celebration time: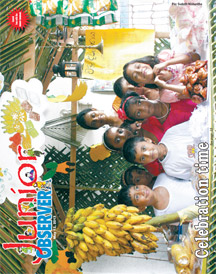 Our photographer Sudath Nishantha captured this photograph of a group of children from Rotary International school celebrated the Sinhala and Hindu New Year recently.
Many children observed the traditions of the New Year while the children had a good time enjoying the traditional sweemeats.
---
Back Cover Story
Hawk-eyed looks: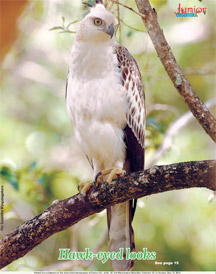 Our photographer Susantha Wijegunasekera captured this magnificent picture of a lone hawk eagle waiting for its prey at a spot in Amparai close to the Kumana bird sanctuary.
The White Breasted Eagle can reach in size from 60 to 90 cm. long and their wingspan of around 180 cm. White Breasted Eagles are heavy with big feet for grabbing prey such as fish, rodents, birds, snakes, monkeys and rabbits. They can be very fat, tall, and sometimes even skinny. White Breasted Eagles are brown, grey, black, and a white neck, head and breasts. They have great eyesight and they hunt while up in the sky or on a perch. They will swoop down very fast to kill their prey with their talons.
They will sometimes steal other birds for their prey. The female will lay one to three eggs. Both parents and the female will warm the egg or eggs, and also feed the baby. They will drink from rivers, dams, swamps, creeks, and other places which have water.
White Breasted Eagles come from the hawk family. They have heavy hooked bills with sharp strong claws which we call talons.