Report awaited to telecast live parliamentary proceedings
Deputy Speaker Chandima Weerakkody said they were waiting for the outcome of the report of the committee appointed to telecast live proceedings of Parliament.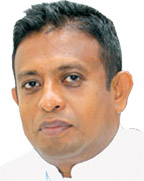 There are a few issues pertaining to this live coverage, he said.
The financial constraint is the main issue. Both the Government and the Opposition have agreed to the live telecast.
Speaker Chamal Rajapaksa is very keen on it. It would be prudent if this can be done without Government funds, the Deputy Speaker told the Sunday Observer yesterday.
He said Speaker Chamal Rajapaksa's idea was to start a live radio broadcast. But a sponsor has to be found for the purpose. The parliamentary proceedings are now on the Parliament website. Generally there is some delay in uploading proceedings via the web. Even parliamentary proceedings in the House of Commons are not telecast live.
It is telecast after a few minutes. When there is commotion in the House it goes blank.
"We have looked into all those aspects. We have already studied most of the systems in other countries such as the House of Commons in UK and the Lok Sabha in India. Some countries which telecast live parliamentary proceedings have also faced financial constraints", he said.
Leader of the House and Irrigation and Water Management Minister Nimal Siripala de Silva said the Government is considering this issue seriously.
We also have to consider at policy level whether it is prudent to telecast parliamentary proceedings live.
This is because we have to set up a separate channel. It's a complex issue which has to be addressed properly. We are discussing this at the Party Leaders' meetings as well, he said.