Policy framework to meet middle income economy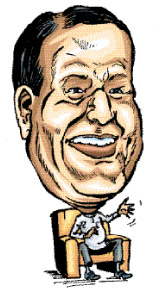 Sri Lanka will reorient its economic development policy framework to suit the needs of a middle income economy, Senior Minister for International Monetary Cooperation and Deputy Finance Minister, Dr. Sarath Amunugama said.
Dr. Amunugama told the SAARC Finance Ministers' seventh annual meeting in New Delhi recently that despite a difficult global and domestic environment, the Sri Lanka's economy grew by 6.4 percent in 2012 following the two consecutive years of robust growth of over 8 percent.
He attributed the moderate growth in 2012 to the weakening global economy, which had adversely affected the demand for Sri Lankan exports.
"The Development Policy Framework of the Government envisages a well-developed economic infrastructure network covering the entire country."
The Minister said the primary goal was a significant private investment with an improved investment climate for the private sector. This has been facilitated through the Government budget for 2013 and will ensure Sri Lanka's transformation towards a poverty-free upper middle income economy.
He said that a considerable private investment has already been made in ports, power and energy, roads, telecommunication, tourism, agriculture and marketing.
MF