Electricity at concessionary rate costs Rs.17,000 billion - Minister Pavithra Wanniarachchi
This government which provided electricity to 24 percent of population who were deprived of electricity since independence under whatever government, still utilise Rs. 17,000 billion to provide electricity at concessionary rates to the people, Power and Energy Minister Pavithra Wanniarachchi said on Friday in Parliament.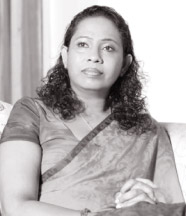 She added that the electricity provision has reached 94 percent from 70 percent in 2005.
She urged the Opposition to go near Norochcholai coal power plant and Upper Kotmale power plant with lighted candles thinking of the mistakes they did in the past. Wanniarachchi was answering an adjournment motion moved by UNP MP Tissa Attanayake.
The minister further said the electricity bill revision has not been effected 10 million people of this country.
She stated that political parties in a country should unite to find a solution to the world energy crisis leaving aside all the differences.
The Minister added that it is pathetic that bankrupt political groups attempting to give a new lease of life to their groups by talking on the electricity bill.
ZThe same political groups attempted to raise an ethnic issue when hydro power plants were to be set up, religious issues when coal power plants were to be constructed and various professional issues when the power lines were to be extended.
She added that these negative moves will be condemned by the future generations. She also said that the intelligent people of this country know these bankrupt political parties get the support of the international community to raise these unnecessary issues.
Minister Wanniarachchi added that in 2012 only the government could add 722GW to the national grid by means of construction of small and medium hydro power plants, wind power projects, solar power projects, dendro plants etc.
This government under the leadership of President Mahinda Rajapaksa took a historic decision to construct a coal power plant in Norochcholai which added 300MW to the national grid and the rest 600MW will be added to the national grid by the end of this year.
The UNP governments at various occasions neglected to construct coal power plants. She added that Sampur coal power plant will be completed by 2016 which would add 500MW to the national grid. Another 1,2000MW coal power plant will be completed in 2020. Though this government provides electricity round the clock we cannot forget that there was a power cut in 1981, 1983, 1984, 1987, 1992, 1994, 1996, 2001 and 2002. Late President Premadasa increased electricity bill by 45 percent in 1990. She said that one cannot forget that electricity bill was increased by 13 percent, four percent and six percent in 1991, 1992 and 1993 respectively.
The Ranil Wcikremesinghe government increased the electricity bill by 31 percent.