In Brief
Death of Prof. Sudatta Ranasinghe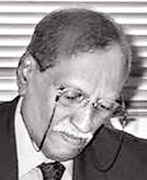 Professor of Management, Department of Management Studies at the Open University of Sri Lankan (OUSL) Sudatta Ranasinghe passed away on Friday. He served as a Dean, Faculty of Humanities and Social Sciences at OUSL from October 2004 to October 2007. Prof. Ranasinghe was a product of the University of Sri Jayewardenepura. Professor Ranasinghe's wife Chithra Yapa Bandara predeceased him.
He leaves his son Usura and daughter-in-law Sewvandhi.
His remains are now lying at the Jayaratne Parlour, Borella. Cremation today at 4 p.m. at the Borella Cemetery. No. 285/15, Vidyaraja Mawatha, Hokandara South, Hokandara.
---
Visakha Walk on June 1
Visakha Walk 2013, jointly organised by the Visakha Vidyalaya Old Girls' Association and the School Development Society will be held on June 1 from 7 a.m.
The walk which will start from the school premises, will mark the School's 95th anniversary. The proceeds of the fund-raiser will be utilised for the much-needed renovation of the Jeremias Dias Hall.
Past and present students and others who wish to participate could purchase tickets, t-shirts and caps now at the school gate or at the OGA office.
The event is co-ordinated by Nadeeja (0714491537) and Ranjula (077790016).
---
Ex-Army Womens AGM
The 19th Annual General Meeting of the Sri Lanka Ex-Army Womens Association will be held at the Buddhist Cultural Centre, Sambuddathwa Jayanthi Mawatha, Colombo 5 on May 19 at 9.00 a.m.
---
Cancer clinic
The Sri Lanka Cancer Society has organised its next cancer screening clinic from 8.30 am to 11.30 am today at the Society Headquarters at Bullers Lane, Colombo 7 to screen for early detection of specially breast, cervical and oral cancers.
All services will be provided free.