The lure of filthy lucre
Edirichcharige Saman was born in Dewinuwara, a place of religious significance second only to Kataragama.
He studied quite well and no one could predict what destiny had in store for him. Saman wanted to be rich in double quick time and led a life of luxury. He thought of an easy way out of his predicament and wanted to make quick money. Hard work was not for him and he was not prepared to undergo any form of hardship to earn money.
Unfortunately, destiny had a different path in store for him. It has been reported that Saman was a vicious streak in his character. His only ambition was to live a life of luxury. He pondered on ways and means to achieve his objective. Saman did not want to work hard and earn money in the legal way.
He wanted to be a rich man in no time and with the least effort. He tried his hand at gambling at first. When that failed, he indulged in other wrongdoings ignoring the moral obligations of society. Saman wracked his brain to earn quick money.
He thought the next best option was to sell packets of heroin to his 'friends'. Saman nurtured a dream of hobnobbing with the elite and he thought that if he had enough money he would be recognised and able to mingle with the high society.
Job agency
It is in this backdrop that Saman began an agency to recruit employees for foreign employment. He opened the agency in Panadura.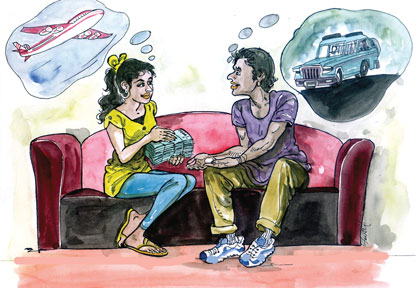 In publishing many advertisements in newspapers for several vacancies abroad his motive was to plunder money from innocent people.
With the help of his mistress Dilrukshi and her three brothers Upul, Chameera and Amila Chinthana he at first worked hard to build a name for his agency of course with sinister motives. His ulterior motive was to hoodwink innocent folk and take their money.
The agency gradually came to be known among the people and many people came there seeking employment. Many of them tried hard to build a friendship with Saman because he was the owner of the agency believing that he would find employment for them.
Saman always entertained women because they were gullible and could easily be cheated. Most of these women were carried away by Saman's ways and they thought their dreams would soon be a reality.
Some women believed in his false promises. He was able to read their minds and used that to his own advantage.
It is in this background that 28-year-old Samarasinghekapuge Desha Sanjeevani of Weeravila came to Saman's agency seeking greener pastures. She belonged to a poor family. Sanjeevani had a lot of expectations for her father, mother, two brothers and sister. She hoped for a bright future for them, once she went abroad and earned money.
Sanjeevani thought that she could alleviate the poverty her family was facing. In turn her father thought his daughter could help them out once she was gainfully employed in the Middle East, little knowing what Saman's motives were.
It was Sanjeevani's friend who praised Saman's agency in Panadura. Sanjeevani's first contact with the owner of the agency was over the telephone. What she heard from Saman made her overjoyed. It was a glorious description about a different world, one that Sanjeevani dreamt of from her childhood.
Tragic events
One that fateful day, Sanjeevani left home and went to the agency with many hopes. One would have not imagined that this simple meeting between Sanjeevani and Saman was the beginning of a sequence of some tragic events that claimed her life.
When Sanjeevani met Saman, he promised her a new life in Europe. He said there were job opportunities in Italy. When Sanjeevani asked Saman about the expenses for the journey, he had asked her not to worry about money, but to get ready to leave for Italy shortly because a few urgent vacancies had been brought to his notice and the Italian authorities were pressurising him to send the employees promptly. Sanjeevani visited agency several times to make inquiries. Saman wanted to grab as much money as he could from Sanjeevani. He asked for Rs. one million from Sanjeevani to send her to Italy.
But Sanjeevani was not in a position to raise such a huge amount of money. She then decided to find it somehow. After selling her parents' property and collecting money from her relatives she gave Rs. one million to Saman.
Sanjeevani, however, came to know that Saman was not pursuing the matter after he got the money then she had begun to visit the agency frequently and became a headache to Saman. Then he planned to get rid of her. He bought a land in Barawakumbuka and started building a house. First he wanted to dig a toilet pit. He did it secretly.
Saman had then informed Sanjeevani to see him to discuss details about the journey. He made her understand that all plans were complete and she had only to board the flight. On that fateful day, Sanjeevani had visited Saman all alone to find out the details because she did not suspect that he had a sinister motive.
Thereafter, there was no news of Sanjeevani. Her family members tried to trace the job agent, but had gone into hiding. However, Saman's sister knew that her brother was up-to mischief and had given a call to the Kuttigala police saying he had killed a woman and her body was dumped into the toilet pit.
She said, "the toilet pit was in the new land purchased by my brother in Barawakumbuka". The OIC of the Kuttigala Police Chief Inspector M.G. Sarathchandra had then questioned her as to where her brother was. She said he was in the Welikada Prison. He was in jail for selling heroin to young people in the area."
OIC Sarathchandra had obtained the telephone number of the culprit from his sister and had a conversation over the phone with Saman.
OIC Sarathchandra and SI Wickramaratne of the Crime Branch of the Kuttigala police left for the Welikada Prison to bring the culprit to the scene on the instruction of ASP Ananda Samarasekara Embilipitiya police division.
The police exhumed Sanjeevani's body from the pit because the suspect had made a confession that he had strangled the victim with a piece of wire. What were remains of trousers Sanjeevani had worn for the last time was found with the body.