A family of cobblers
Velu was my favourite cobbler for years. I met him for the first time when my shoe strap snapped as I was getting down from a bus at the Town Hall. Desperately looking around for help, I spotted to my great relief, a cobbler hard at work sitting under the shady branches of a leafy tree nearby. Waving my damaged shoe in one hand, I hopped towards him. When I reached him, I stopped in my tracks startled to see that his assistants were women.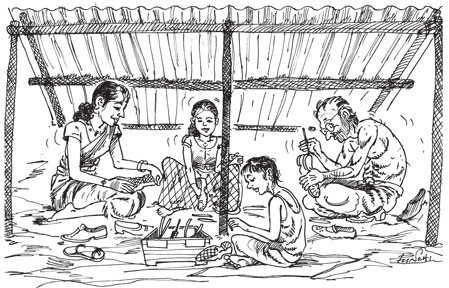 It was an unusual sight, since I had never witnessed a woman repairing shoes. To discover three of them working simultaneously in the same place, was a mind boggling experience, to say the least.
When I told him I needed to have my shoe repaired in a hurry, Velu directed me to his wife, the oldest of the three females, while he continued working on his own pile of shoes, handbags and slippers.
Standing on one leg while supporting myself against the tall tree under which they were working, I stood watching them fascinated by their obvious skills and the different styles they adopted when going about their tasks.
I noted that while Velu adopted the more masculine style, going about his task like a carpenter mending a piece of furniture, his wife Rosammah's style was definitely more feminine.
Flaws
Taking up my damaged shoe, she held it in the palm of her hand, against the sun, studying it carefully, as if examining a sari for its flaws.
Once she discovered where and what they were, she threaded her cobbler's needle and she set to work with unbelievable speed. Her nimble fingers flew in and out, in and out, through the broken strap. When she finished repairing it she held it up in the sun to make sure she had done a perfect job. It had taken her less than three minutes to complete her task!
Handing the repaired shoe to me, she turned to her two young daughters who were busy mending their own piles of shoes and handbags, and told me in a voice full of pride, So when did Velu decide to train his wife and daughters in this profession, obviously inherited from a line of cobblers, I asked him?"I had no sons, so I decided to hand down my skills to my wife and two daughters, despite some weak protests from his male colleagues", he replied. By the time I met him, he had already trained his wife Rosammah and was giving his two young daughters, Rajamoney and Leela aged 14 and 16, an on- the job training after school hours. Being fast learners all three of them became as adept in the art as their guru, with a few saying they even outclassed him at times, much to his annoyance!
Velu and his family became my fast friends. Soon I introduced them to my friends, who in turn introduced them to their friends when they needed to repair a broken umbrella or shoe in a hurry. And so the circle of loyal customers grew.
When asked to move to another place by the road Development authorities who wanted the pavements to be free of all those making a living on them such as gram sellers, fruit vendors and cobblers, like himself, instead of running away to some unknown place where he would have had to woo new customers all over again, Velu simply shifted to the other side of the road. Instead of working under the spreading branches of a tree near the Town Hall, he moved to a small shack across the road. This he 'rented' for a small fee in exchange with the promise of repairing shoes, umbrellas, handbags and anything else his landlord may require, free. He also advertised his new address by pinning a piece of cardboard on the tree trunk, which read: 'Cobbler Velu is now on the opposite side of this tree'. As he told us, "instead of running away to some unknown place where I would have had to woo new customers all over again, this is much more practical and for the first time, I also have a roof over my head while working!" The years passed.
Like we his customers, Velu and Rosammah grew old and feeble. When old age illnesses began to slow down their work, their two daughters took over the business.
Married
Once Velu's daughters left to get married, his cobbler shop ceased to operate. Having continued to live there for a while, Velu and his wife decided they were too old to look after themselves, and moved to one of their daughter's homes for good.
Before they left, my friends and I walked across the street to visit them. Pointing to the leafy tree under which he and his family had sat for so many years, he recalled many tender memories it had held for his family as a whole, as we swapped old yarns of happier days over Rosammah's delicious inguru tea. Our departing words was to tell them how privileged we were to have met such extraordinary folk like them. After all, for ordinary people like us, we told them, it's not everyone who gets to meet a family of cobblers- especially one in which the females outnumbered the males!