Doing Business Report: Economies step up reform
Georgia, Malaysia, and eight high-income economies are among the 10 most business-friendly places on the globe. But the gap between the developed and developing world is narrowing as countries such as Rwanda, Philippines, and the Russian Federation improve regulations to foster entrepreneurship and trade.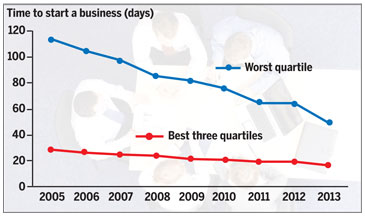 The 2014 Doing Business Report - an annual survey of the ease of doing business around the world - finds a rise in the pace of business regulation reform in the past year, with 114 economies enacting 238 reforms, versus 108 economies and 201 reforms in 2011-12.
"This year, we see a higher number of reforms - 18% more - the second-highest number since the financial crisis," said Program Manager for Doing Business at the World Bank Group, Rita Ramalho.
"This pick-up in pace of regulatory reform is good news particularly for small and medium-size businesses - the main job creators in many parts of the world."
The increase is part of a decade-long trend in which countries are shortening the time it takes to start a business and streamlining the process of exporting or importing goods, to name two examples of reform.
"Governments across the globe realise that the private sector is an important motor of development and job creation. And they realise it's important to have the right regulations that enable the development of the private sector," she said. While OECD (Organisation for Economic Co-operation and Development) high-income economies continue to perform the best across most areas measured by Doing Business, Eastern Europe and Central Asia are narrowing that gap. In three of the 10 areas, Europe and Central Asia is at the same level or ahead, and falls close behind in another two.
Since 2009, 92% of the countries in the region have improved their process for starting a business - a higher share than any other region, said the World Bank-IFC survey, published since 2003. Europe and Central Asia have overtaken East Asia and the Pacific over time as the second most business-friendly region after the OECD economies.
In Africa, 66% of countries enacted at least one reform last year, versus 33% in 2005. Nine African countries are among the top 20 most improved in terms of business regulations since 2009: Benin, Burundi, Cote d'Ivoire, Ghana, Guinea-Bissau, Liberia, Rwanda, Sierra Leone, and Togo.