A timely call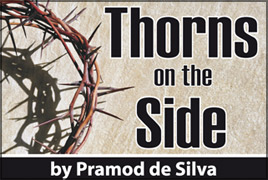 The recent bus tragedy in Bandarawela where over 120 passengers died after a bus fell into a precipice has prompted the authorities to examine the root causes of such horrendous accidents. Although private buses are very frequently involved in accidents, we rarely come across a case where a Sri Lanka Transport Board (SLTB) driver is involved in an accident.
Their rigorous training, discipline and good driving skills are often attributed to the low accident rate among SLTB buses.
However, the Bandarawela tragedy was an exception to this norm. The bus was a SLTB bus. There is no doubt that the driver was a highly experienced individual, for it is not easy to drive a large bus on these precipitous roads in the hill country.
However, according to preliminary reports, he has committed the cardinal sin of using a mobile phone while driving. That should have been a strict no-no.
The SLTB has now, somewhat belatedly decided to ban bus crew members (driver and conductor) from using mobile phones while driving. They have in fact been asked to leave their phones at the depot itself before taking the bus out.
While this should have been the case from day one, the authorities should be commended for taking this action even now. At the moment it is not clear whether hands-free kits would be allowed, but even they are a huge distraction while driving.
The same law should be extended to private buses as well. They are the bigger culprit when it comes to using mobile phones while operating buses laden with passengers including schoolchildren. Private bus crews are often seen using their phones even during potentially risky road manoeuvres. We hope that the private bus unions would instruct their members to pass on this message to the bus crews.
Precious lives
Mobile phones are so cheap now that everybody has one. It may not be fair to deny this right to those engaged in certain professions, but what is at stake here is the precious lives of passengers. Passenger safety must be the overriding concern in operating a bus. This is why it is essential to restrict mobile phone use for bus crews during their duty hours.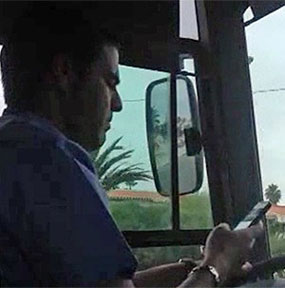 Going through readers' comments on this story in several websites, I came across an interesting observation: Bus crews use mobile phones to communicate who is next and who is behind in the queue of buses.
Earlier, they used a well-known set of hand signals. With the advent of technology, they can just take a call. However, if a proper timetable is followed (there is a proposal to once again enact joint SLTB-private timetables from January next year), there is no need to second-guess who is next on the line. It will be public knowledge.
One thing that goes against this rule is, what should the crew do in case of an emergency in the absence of a mobile phone? Every passenger is likely to have one so that will not be big problem. But that may not be a proper solution.
However, each bus can be fitted with an emergency alert system that automatically sends a message to the relevant authorities.
These systems are now really affordable. GPS trackers can also be fitted so that the depot personnel know where their buses are at any given moment. These may sound advanced concepts for an emerging nation, but the systems are becoming readily available as economies of scale kick in.
Loud music
There also ought to be a law regarding loud horns and loud music in private buses. New vehicle noise regulations will come into effect that will address the horn problem. Some private bus drivers are accustomed to sounding the horn even when it is quite unnecessary. There should be no room for such occurrences. Music too is played at ear splitting levels in private buses.
This is a form of noise pollution that should be addressed without delay. True, passengers might a appreciate bit of music after a hard day's work but it is not essential to turn the volume knob all the way up. Music should remain in the background.
The ban on mobile phones should apply to all drivers, not just SLTB bus drivers. While the authorities cannot force motorists to leave their mobile phones behind as they embark on a journey, there should be greater awareness on the dangers of calling and texting while driving (the latter even more dangerous than the former).
"Kill the call, not yourself" is a good example for a slogan I have seen abroad that warn drivers about the dangers of using hand-held devices (phones, Kindles, ipads) while driving. Young drivers (who are more or less on the phone 24/7) should be especially targeted by these Public Service Announcements (PSAs) as their phones are used for everything from games to Internet access while driving.
We have had these laws ever since the mobile phone became an ubiquitous device around 10 years ago. Somehow, there seems to be a lacuna in their implementation. The Police cannot be omnipresent, so not all those who use mobiles while driving can be caught. For those who do get caught, a stiff fine awaits.
But it would be far more affective to air video and still clips on TV that show the horrors of accidents caused mobile phone use. I have seen several of those clips myself and they are truly effective.
Motorists must desist from using mobiles while driving for their own safety (and that of others), not because the Police could probably give them a ticket. Just as many people have come to realise that seatbelts do actually save lives, they will realise that not using mobiles can save lives. It is better to voluntarily comply with a law than being forced to observe it at the threat of a fine or jail term.
Technology will always try to make our lives easier but we have to be wary of the pitfalls. Safety is paramount - is that call more important than your life and the lives of your loved ones, or passengers? Just thinking about that for a second will help save lives in the future.