Cover: Win with windy
D.M. Priyanwada Godage's, Wind with Windy won second place in the English Open category at the State Children's Drama Festival held recently. What is admirable about this is the children who participated in the drama were from the Embilipitiya Children's Home where they have very little exposure to English. These children however pursued their endeavour and came out right on top. .They carried away six awards in various other categories as well. They were trained by Kumudini Gunasekera, Gayesha Wimalaratna, Priyanwada Godage, Chamara Bawantha, Pasindu Gamini and Yamuna Kumari. The matron of the Home, Sriya Gamage (third from left) was elated that the children beat better known schools that had an exposure to English.
---
Back cover: The spotted kind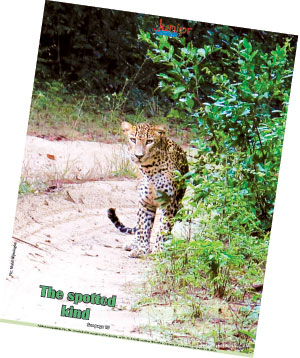 Wildlife enthusiast and Sunday Observer graphic artist, Mahil Wijesinghe captured this enthralling picture of a leopard in the wilds of Wilpattu. It is extremely difficult to see a roaming leopard especially when visitors are around.
Wilpattu National Park (Willu-pattu; Land of Lakes) is a park in Sri Lanka. The unique feature of this park is the existence of "Willus" (Natural lakes) - Natural, sand-rimmed water basins or depressions that fill with rainwater. Located in the Northwest coast lowland Dry Zone of Sri Lanka. The park is located 30 km west Anuradhapura and located 26 km north of Puttalam (approximately 180 km north of Colombo). It is 131, 693 hectares and ranges from 0 to 152 meters above sea level. Nearly sixty lakes (Willu) and tanks are found spread throughout Wilpattu. Wilpattu is the largest and one of the oldest National Parks in Sri Lanka.It is among the top national parks renowned for its Leopard (Panthera pardus kotiya) population. The Leopard population in Wilpattu is still not known.- Internet.