Saga of quintuple murder
Moving to a new house to start life anew was what 46-year-old Premadasage Pemawathi and her son Priyantha wanted because they found that there was no opening while they were residents at Mahiyangana.
It was a dark and menacing night with the screeching of an owl foreboding ill will. The silence of the night was shattered when the victims began screaming as soon as the suspect smashed their heads with a manna knife. Each time a victim woke up Jagath ensured that he aimed the manna knife in such a way that the victim was done to death in an instant.
The gruesome killing of five members of the same family including two women and a 13-year-old girl at a house in Vihara Halmille Kulama, Anuradhapura, shocked not only the people of the sacred city but the whole country.
Anuradhapura the historic ancient city which houses the Sri Maha Bodhi was in shock and grief. People were unable to understand how five people could have been killed in such a heinous way, by hacking them to death.
Pemawathi and Priyantha were poor people and had decided to change their residence having a lot of expectation for the future. After selling their land and house they settled down in Vihara Halmilla Kulama Anuradhapura with the assistance of her 45-year old sister Premadasage Indumathi Sriyani. They wanted to begin a new life after selling their ancestral land.
The 25-year-old Rajapaksage Priyantha had built a friendship with the 30-year-old Jagath Kumara who was an army deserter recently. Jagath was a bachelor.
In this short period of Priyantha's association with Jagath he found him to be a trusted friend who assisted him on many occasions.
On that fateful day Priyantha and family started loading all the household goods into a lorry to be transported to their new home in Anuradhapura.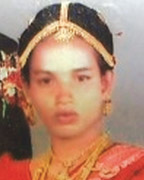 Indumathi Sriyani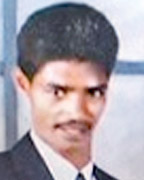 K A Piyadasa - the lone survivor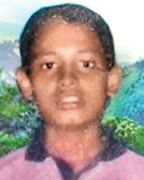 Sampath Udaya Kumara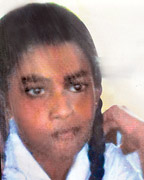 Thakshila Kumudu Kumari
An eager helper was Priyantha's new-found friend Jagath.
After loading the goods in the house into the lorry in Mahiyanganaya, Priyantha and his family members began to transport them to their new aboard. Jagath was the one who helped them to load and transport the goods.
After a hard days work, on that fateful day Priyantha and the lorry driver with his cleaner were imbibing in liquor. Jagath too joined the party which continued till late into the night.Indumathi Sriyani, The 23-year-old K.A. Sumith Udayakumara, 13-year-old K A. Thaksila Kumudu Kumari were the other members of the family. They went to bed after having dinner. They were all tired after moving the goods to their home and instantly fell into a deep sleep.
Although the lorry driver and cleaner left, Jagath remained in the house.He had a hidden agenda and was vigilant. His motives were not good. Jagath knew that Priyantha's family had some money after selling the land and his intention was to steal the money.
He woke up at the dead of night while all the others were asleep and began looking for the money. Pemawathi woke up due to a noise she heard in the house. She slowly got up and started to walk towards the door. A shadow appeared from the dark she did not recognise that it was Jagath.
Jagath fearing that she would shout and raise an alarm attempted to silence her. He had given her a blow on the headc and blood spattered the dusty floor. Another blow fell and several more followed and Pemawathi with all her dreams of a new life died on that cold concrete floor.
Later the other members in the house began waking one by one not knowing that death awaited them. Within a few minutes blood drenched the concrete floor and all five lay dead in the same house. But one person with grievous injuries was yet living.
According to police, 47-year-old Piyadasa Perera was a labourer in a grocery shop in Anuradhapura. He was the owner of the house who was also attacked. He is currently receiving treatment at the Anuradhapura teaching hospital. The police media unit stated that the grievous wounds were found on the bodies of the dead people. The only suspect, 30-year-old Jagath is reported to be an Army deserter and was apprehended on Wednesday morning in connection with the murder of the five persons in Halmillewa, Anuradhapura.
A team of investigators attached to the Anuradhapura Police netted the suspect in Hasalaka, Mahiyangana.
The Anuradhapura Magistrate issued a detention order on the suspect on Wednesday. He is currently being held in police custody.The Magisterial inquiry into the deaths was carried out on Monday morning. Police found 4 gold chains, a gold wristlet and a gold ring in Jagath's possession.
Further investigations revealed that after the murder, the suspect had fled the area along with the jewellery and Rs 153, 750 belonging to the victims.
The family members who came to Anuradhapura to begin a new life instead had to seek solace inside a cold coffin in their newly bought house. The suspect Jagath who was apprehended by police within twenty four hours of the crime being committed was because of the astuteness of the anuradhapura police division. In the suspect's confession to the police he had said that he had no permanent abode and lived for sometime in the Laggala temple premises. He had a brother who was employed in Colombo and with whom he had no contact . His parents were both dead. "I travelled one day in a bus and the conductor of that bus was Priyantha. I struck a friendship with him when I asked him to hand over my mobile phone number to a pretty damsel who was seated in the front seat of the bus. Priyantha obliged me and from then on we became firm friends. The damsel called me on my mobile phone and told me she was married and was a mother of one child. She was married to someone from the army. I continued to have an extra marital relationship with the woman. Priyantha also had a relationship with her youngest sister and our friendship (Jagath's and Priyantha's) strengthened further". It was in this backdrop that Priyantha had contacted Jagath and asked him whether he could help him to move house to which Jagath had readily obliged. Jagath had then assisted them to shift the goods into their new residence and on that day after all the work was over , the owner of the house his son the lorry driver, the cleaner and I imbibed in liquor.
Later the driver and the cleaner left the place while I continued to drink, then priyantha asked me to stay over to which I readily agreed as it was getting late. I could not get a wink of sleep while all types of thoughts going on in my mind. I crept into the kitchen and took the manna knife. I first killed Pemawathi when she awoke .
I then began killing everyone, one by one by moving into the places where they slept. Now I was searching for the money which had been brought by Priyantha and his mother. I then broke an almirah thinking the money was hidden inside. But there was no money. I looked underneath a bed and found a basket. I pulled it out and in it I found about Rupees two and a half lakhs neatly packed. Now it was passed 12 midnight. I washed myself clean and changed my sarong and shirt to a pair of longs and shirt that was hung on the line. I got on to a bicycle belonging to the inmates and rode towards Dahiyagama junction. There I had a glass of kola kenda from a boutique and also smoked a cigarette. I told the mudalali to take care of the bicycle and then got into a three-wheeler and went towards the Anuradhapura new bus stand. I boarded a bus and got off at Rambawa junction. Now it was daylight. I think it was about 6.30 am. I loitered around the bus stand for another half an hour and boarded a bus bound for Colombo going through Dambulla. I got off at Dambulla.
I did not even have a pair of slippers. I bought a pair of canvas shoes for Rs. 1,500 from the money I stole. I then went to a jewellery shop and bought a bracelet and four small gold chains which cost Rs. 80,000.The next thing I did was, I wore all the gold jewellery. I love gold jewellery. That is why I did this.
Then I went to Bakamuna town and went to an eating-house where I had my stomach's fill. It was when I got off at Hasalaka from Bakamuna that a police team apprehended me." This is the story relayed to the police by the suspect Jagath in the quintuple murder.