Learning to respect others - first step
International Day for Tolerance on November 16:
They were just two grade 7 students fighting their own private war in their schoolyard. It wasn't a fight about getting better grades or being promoted to the next class or even winning a scholarship for needy students. Their differences went deeper, shaped by years of 'racist' prejudice embedded in their minds due to the racist remarks made by their parents, teachers and neighbours, who little realised the tragic consequences of such careless remarks.
Devan (not his real name), a boy who hailed from the North, had just been elected prefect of the class over his Southern classmate Gamini (not his real name). Since the majority of the class students were from the South, Gamini mistakenly believed that the teacher, herself a woman who hailed from the North, had favoured the boy from the North.
When their fight reached a pitch, and the noise attracted the class teacher, she ran into the compound. Putting herself in their middle and taking a few blows on her body in the process, she forced the boys to sit on the ground and calmed them. Putting an arm around each of the boys, she then proceeded to tell them the terrible consequences of racial violence, drawing examples from the recently concluded 30-year battle against terrorism.
She then asked them to reflect on the lives and teachings of the great leaders who were featured in their history books. "Learn from them", she said. "They taught that intolerance of any form must not be condoned - whether racial, religious, cultural or any other discriminating factor."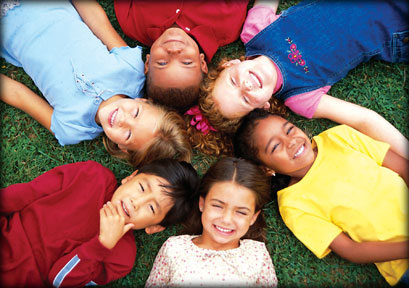 The boys who listened to her words of wisdom that hot afternoon some three decades ago, are today fathers. Preferring to remain anonymous, they told this writer, "After listening to our teacher's advice on zero tolerance for any kind of prejudice, we shed our differences. Between us, we have now forged a lasting friendship which we have passed on to the second generation and hopefully, to our future generations".
Racial prejudice
Sadly, in spite of efforts to bridge such racial bigotry, by the State and Non-Governmental Organisations, we still come across incidents of racial prejudice among our young generation, including schoolchildren.
To quote a recent incident; while travelling to work the other day in a bus, I was saddened to see how a fight between two boys, one Sinhala-speaking and the other Tamil-speaking, spilled into a racial squabble, after the boy who had got into the bus earlier refused to give the other student room to sit next to him, as he wanted to keep his heavy school bag on that seat.
This resulted in a punching match with each calling the other derogatory names that clearly had a racial bias. It was only after the conductor threatened to throw them out of the bus that they calmed down.
November 16 (Saturday) is the International Day for Tolerance. At a time when many nations are in danger of falling apart due to religious and racial wars currently raging across the world, the word 'Tolerance' has assumed significant proportions. Conflict resolution through peace is no longer a meaningless phrase. It is, in fact, now increasingly being used as a tool against violence, in schools, youth clubs, universities, churches, temples, mosques, offices and wherever the public congregates.
In Sri Lanka, school principals are being taught lessons on conflict resolution in the hope they train their teachers who could pass on that message to their pupils.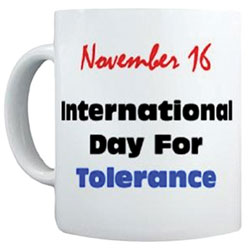 Conflict does not only arise from religious and racial differences. It is about one's priorities - and how one views the rights of people around them. If those rights which we call Human Rights are trampled upon or violated in any form, then it is a sure sign that the spirit of intolerance has triumphed.
Infectious diseases
These human rights can even extend to a simple thing such as banning the head scarf that Muslim women wear in schools, as what happened in France, which promoted Britain's first Muslim Cabinet Minister Baroness Warsi to say, that "to allow one to wear what they wish is the basis of a free society."
Stigmatising people with infectious diseases such as AIDS is also a violation of human rights. So is prejudice against differently-abled persons.
Intolerance thus taints every aspect of society, which calls for specific tools and ways of countering intolerance for the world to live in peace and people from different religions and races to co-exist.
The United Nations website cites many such interventions. They range from overcoming racial and religious prejudice, to understanding cultural differences, to making changes in discriminatory laws, to giving access to education and information to all. Even issues concerning same sex marriages have been cited as human rights issues.
As the UN Declaration states, it requires the highest authorities such as governments to make such changes e.g. Enforcing human rights laws, banning and punishing hate crimes and discrimination against minorities, ensuring equal access to courts, human rights commissioners or ombudsmen, so that people do not take justice into their own hands and resort to violence to settle disputes.
Most importantly, it is necessary and vital that these lessons in tolerance begin early in life - from the time a child learns to talk and understand the world around him.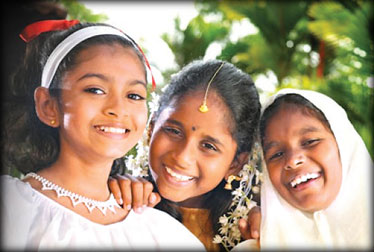 The Declaration of Principles on Tolerance on November 16, 1995 by UNESCO Member States affirms that, "tolerance is neither indulgence nor indifference. It is respect and appreciation of the rich variety of our world's cultures, our forms of expression and ways of being human. Tolerance recognises the universal human rights and fundamental freedoms of others. People are naturally diverse; only tolerance can ensure the survival of mixed communities in every region of the globe."
Sri Lanka is a country with a rich multicultural, multi-linguistic, multi-racial and pluralistic society.
Already the barriers that separated the North and the East from the South have begun crumbling with the end of 30 years of terrorism.
Tamil students from the North have been brought to Colombo while those from the South have been taken to tour the North. Peace trains taking loads of visitors, including schoolteachers and university students are becoming a common phenomenon.
If we can continue breaking down the invisible walls of hate that continue to prevent us forging the bonds of brotherhood and sisterhood, irrespective of our faiths and races, it will not be difficult to become 'One country One People' as President Mahinda Rajapaksa has so often been heard saying after the end of terrorism.