Iran highlights human rights violations in United States
TORONTO, Canada: Tired of being on the receiving end of human rights concerns by Washington, Iran has responded with its own scathing report on rights violations by the United States.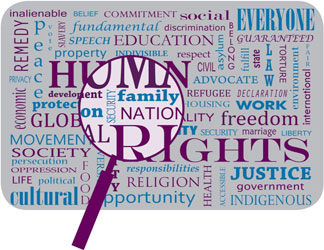 A report by Iran's Basij militia questions the United States' role as the self-proclaimed defender of human rights, accusing Washington of a string of abuses.
Death penalties, violation of prisoners' rights, racial discriminations, breach of privacy rights, lack of free speech, and violation of the rights of indigenous populations are among the ways that Iran believes the United States breaches human rights. The 30-page report accuses Washington of using human rights as a tool to wage war on other countries, while violating those same rights at home.
"Although the United States of America claims to be a protector of human rights around the world, and each year assesses the HR situation in each country, it remains to be asked where its own situation in terms of respecting and protecting Human Rights is," said the report, published in English, Arabic and Farsi.
"As soon as we all hear the phrase 'human rights,' the painful memories of Abu Ghraib, Guantanamo, and Bagram prisons remind us of the human rights violations committed by the US government," said the report, referring to US military scandals involving prisoners under its care.
Specific cases
The focus of the report, released in a ceremony at Tehran University, is on rights abuses in 2013.
Last week, the United Nations published a report on human rights violations in the Islamic Republic, which was immediately dismissed by the Iranian justice minister, Mostafa Pour-Mohammadi.
The Basij report refers to specific cases, including Edward Snowden's, a former National Security Agency contractor who revealed top secret NSA documents to several media outlets.
"The American Civil Liberties Union documents show that (US) security agencies widely intercepted American citizens' phone calls in 2013. Many of these actions were carried out without a court order," the report notes. It also objects to a 35-year prison sentence given by a US military court to Bradley Manning, the young American soldier who was arrested in 2010 for revealing classified information to WikiLeaks, the online whistle blower.
Iran notes that rights watchdog Amnesty International has repeatedly asked for his release.
Privacy violations of Muslims by the New York Police Department (NYPD) and other law agencies is another topic of focus for Iran, which shows strong support for American Muslims whose anger it sees as justified.
"For over a decade, the NYPD's Intelligence Division has targeted Muslims for discriminatory surveillance based on nothing but their faith, spying on them in their places of worship, businesses, and even homes." the Iranian report said. "The NYPD's biased spying program constitutes a clear violation of the civil rights of innocent Muslims, who are viewed as suspect and stigmatized by the very authorities charged with protecting them," it adds.
- rudaw.net