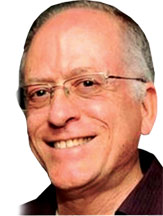 Interview:
Unfolding the beauty of Bulgaria through fiction
Falling in love, while on the job, with the country he was relocated to perform his professional duties, led the US-born Israeli writer Ellis Shuman to create his first novel set in the picturesque land of Bulgaria which brims with a richness of ancient history, culture, lore and legend that enchanted and enwrapped Shuman to conceive Valley of Thracians.
The east European country of Bulgaria is a name that surely evokes an image much bound to exoticism and mysticism to the Sri Lankan mind. The impressions Bulgaria and Bulgarian culture have made on the mind of Shuman have been profound, and evidently productive to his pulse of creativity.
A founder of the Kibbutz Yahel in the Arava Valley in Israel's south, Shuman is a man with diverse experience from different streams of work which include the hotel industry, and is a former Food and Beverage Controller at the Jerusalem Hilton. Shuman's interests have also led him to serve for three years as Editor in Chief of Israel Insider, an online daily newsmagazine that developed new technologies as it posted the latest news and views, from and about Israel.
As a writer who contributes to enlarge the stores of online information on the internet, Shuman wrote extensively about life in Israel in his position as the Israeli Culture Guide at About.com. He has also designed and maintained websites for the Neve Ilan Hotel and for Indic--Independent Israeli Cinema. Today in the Sunday Observer's Montage Ellis Shuman speaks of his journey as a writer, his novel Valley of Thracians and the deep bond he shares with enchanting Bulgaria.
Excerpts:
Question: What made you become a writer? What was it like starting out to accomplish your first work as an author?
Answer: I was born in Sioux City, Iowa, a small Midwestern city in the very centre of the United States. My father was a newspaperman who worked on the staff of the Sioux City Journal. I longed to follow in my father's footsteps.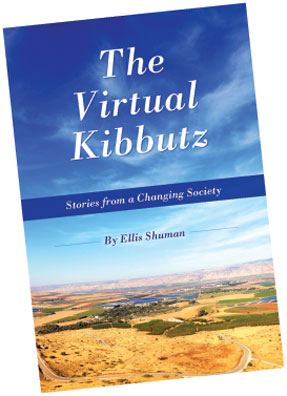 During summer school vacations, I wrote, edited and produced a neighbourhood newspaper. I would go house to house, knocking on my neighbours' doors and inquiring about their summer activities, which I wrote up as if they were the most interesting news stories of the century. Then, after mimeographing copies of the newspaper, I would sell them door to door at ten cents a copy. My first writing was therefore nonfiction, but I wanted to write fiction as well. In school, creative writing was my favourite subject.
History
Q: Your novel Valley of Thracians is set in Bulgaria, a land with much history, architectural antiquity, olden ritualism that evoke a rich cultural image to the world at large. Just like a South Asian country would evoke a westerner as 'exotic', a place like Bulgaria would strike a similar impression in a Sri Lankan. What made you place your plot there instead of your own country of domicile? Can you offer some insight?
A: I have lived in Israel since I was a teenager and in the past ten years I have worked in online marketing. In 2009, much to my surprise, my job was relocated on a two-year contract to Sofia, Bulgaria. My wife and I decided to make the most of our Bulgarian experience. We travelled extensively around the country, attempted (but did not succeed) to learn to speak Bulgarian, and made many friends. We enjoyed eating Bulgarian cuisine and learning about Bulgaria's rich history and culture. Bulgaria offers something for every visitor, yet very few western tourists venture beyond its Black Sea beaches and ski slopes.
After returning to Israel, it was obvious to me that I would stage my novel in Bulgaria. Also, the fact that hardly any English language fiction is set in Bulgaria made the prospect more unique to me as a writer.
Q: How did you set about developing the plot? Have any works of literature or film served as inspiration to conceptualise the storyline?
A: The whole concept of my novel started with one general idea - a Peace Corps volunteer goes missing in Bulgaria. I wondered what would happen if that Peace Corps volunteer was never found.
Would family members give up hope, or would they come to Bulgaria and launch their own rescue mission, even if local authorities cautioned them that there was no hope in finding the volunteer alive?
The American Peace Corps did a tremendous job helping young Bulgarians learn English and better their communities and lives, and it's a shame that the program no longer serves in the country. To make sure that my novel was as accurate as possible, I interviewed volunteers who had served the Peace Corps, as well as some of the program's Bulgarian directors.
Tribal people
In addition, travelling around Bulgaria introduced me to an ancient, tribal people who lived in the Balkans during the time of the Romans.
The Thracians were very militaristic, yet they also developed wine cultivation, crafted intricate jewellery in gold and silver, and left elaborate burial tombs. Today there is no trace of the Thracians, nor is there any record of the language they spoke. This lost people fascinated me. I endeavoured to weave their story into the plot of the missing Peace Corps volunteer.
My novel, Valley of Thracians, therefore, tells the story of efforts to locate the missing volunteer, along with the story of a missing Thracian artefact. No other books or films helped me conceptualise the storyline, which I developed on my own.
Q: 'Character construction' is another weighty task for a fiction writer that needs to be focused on apart from the plot and storyline. Please tell us about the principal characters. How did you develop them? Is there any particular character that you identify more with at a personal level?
A: There are four main characters in my novel. There is the Peace Corps volunteer who goes missing, as well as his grandfather, who comes to Bulgaria to track down his grandson. It is not often that an older man - a grandfather - plays the role of a protagonist in a suspense novel.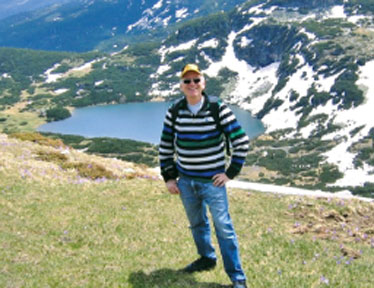 In addition, it was important to me to include Bulgarians as main characters in the story. Bulgarian friends of mine who read the book were pleased to see their countrymen described as ordinary people. If anything, I identify more with the two Americans in the book, as both of them arrive in Bulgaria and discover the country's customs, history, and people to be very colourful and unique. The visit becomes a learning experience for them, and hopefully for the reader as well.
Impression
Q: A review I read of your novel on Amazon.com was somewhat critical of the narrative mode you had devised. The impression I got was that the reviewer felt the switching from a first person point of view to the third person with quick successions was in a manner that makes the flow of action and story's development rather cumbersome for a the reader to digest.
What are your thoughts on that? What was your own approach as the writer in terms of narrative approach? And as a writer do you think of any particular kind of reader when you set out to write the story?
A: I hadn't paid attention to that particular review, as the overwhelming response to my book has been very positive. The characters I created, readers said, were very believable. There are no superheroes or secret agents in my story, but instead the story is one of ordinary people who are pulled into unordinary situations.
Each of the main characters has a story that intersects with the stories of the others, and I made sure to give each due attention. Perhaps the reviewer who made the comment was eager for one storyline to continue, without having another character's story interrupt the flow.
As an author, I needed to put all the pieces of the puzzle into place in a specific order before bringing all the characters together as the book reached its suspenseful conclusion.
I think my book will appeal to all types of readers, from those who enjoy suspense novels to anyone interested in reading a novel set in an unusual location.
Q: Another review which yet again I read on Amazon.com about Valley of Thracians labelled the book as a work of 'travel fiction' in terms of genre while also commending it as a work of thriller fiction.
The reviewer went on to say how the detailed descriptions of Bulgarian culture and the landscape would make it enjoyable to anyone who would like to read and learn about Bulgaria. I must admit the term 'travel fiction' is something new to me in terms of classifying fiction.
So, did you have this particular category of 'travel fiction' as an objective when you conceptualised Valley of Thracians which essentially can be classified as a thriller novel?
A: I definitely consider my novel to be 'travel fiction,' which I define as any story that gives a strong emphasis to the location where the action takes place. In the novel, the setting - Bulgaria - is almost a character in the story. While my book is also a thriller, with a suspenseful plot, as an author I made efforts to show the reader what it's like to be in Bulgaria.
What do the characters eat? What is their culture like? What are their customs, traditions, and holidays? These were all things I learned about during the two years I lived in Bulgaria. It was important for me to share these experiences with readers.
Q: You have also published a book of short fiction titled The Virtual Kibbutz. Could you offer some details about this collection of short stories?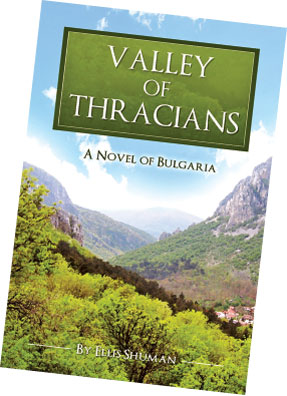 A: After completing high school in Jerusalem, I served for three years in the Israeli army. As part of my army service, I helped establish a kibbutz in Israel's southern desert. A kibbutz is a collective, socialist community, unique to Israel. In the traditional kibbutz all property is shared; kibbutz members take turns doing the various jobs with payment equal for all; and the highest authority is the members' general assembly.
On the kibbutz, I worked in agriculture - planting, picking, and sorting crops of tomatoes, pepper, onions. I also milked cows. My wife and I lived on the kibbutz for seven years, and all three of our children were born while we lived there.
Twenty years later, I published a collection of short stories depicting different aspects of living on the kibbutz. The stories told of kibbutz members and the various day-to-day problems they face. The kibbutz today in Israel is very different from what the first kibbutz was like when it was established over 100 years ago.
Much of the idealism and pioneering spirit has been lost in an age when MTV and the Internet rule much of our lives. The stories in my collection take a nostalgic look at the kibbutz as it once was, as well as at the problems facing its uncertain future.
Q: Are you currently working on a new book? What do you see ahead in your path as a writer?
A: Absolutely! I am currently editing my new novel, which is again a suspense thriller. My short story collection was set in Israel, and my first novel was set in Bulgaria. My new novel will combine my love and appreciation for both of these countries. I won't say anything else about the book at this stage, just that the action highlights the strong connection between Israel and Bulgaria.