Human Rights, not a tool to settle foreign policy issues – Mahinda Samarasinghe
Sri Lanka's Ambassador in Geneva Ravinatha Aryasinghe has sought a clarification from UN Human Rights High Commissioner Navi Pillai as to why Sri Lanka's response to her report was not annexed when the latter was circulated among the member countries ahead of its submission in the Human Rights Council sessions this week, Minister Mahinda Samarasinghe said.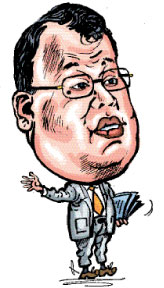 The 25th regular sessions of the Human Rights Council will commence tomorrow in Geneva and continue till March 28.
The report 'Advice and Technical Assistance for Government of Sri Lanka on promoting reconciliation and accountability in Sri Lanka' is currently being circulated by the office of High Commissioner Pillai sans the 18-page Sri Lanka response where the Government has rejected a call for an international mechanism to investigate the last phase of the humanitarian operation.
Pillai's visit and report was facilitated by the US sponsored resolution in 2013.
When HC Navi Pillai's limited (Oral) report in the aftermath of her Sri Lanka visit was submitted to the HRC in September last year, the objections raised by Sri Lanka were also annexed. Hence, he member countries had it at hand when they perused her report which was, by and large, critical of Sri Lanka's national reconciliation process.
"Our stand is that this is a procedural violation," the Minister said referring to the failure to annex Sri Lanka's response. Ambassador Aryasinghe has already written to the High Commissioner seeking a clarification and Sri Lanka's response is currently being circulated among member countries for their reference.
The Report to be tabled this week under Item No 2 will be up for debate among the member states to decide if her recommendations should be taken on board or not.
China and Russia among other voting powers in the HRC have criticised Pillai's call saying Human Rights should not be a tool to settle foreign policy issues. Russian Foreign Affairs Ministry's Department for Humanitarian Cooperation and Human Rights Director Anatoly Viktorov who recently visited Sri Lanka said any impartial observer should admit that Sri Lanka has shown progress in addressing many post terrorism issues.
"The level of confrontation and politicisation of the issues at the UNHRC is incredible. It is even higher than the UN Security Council which is a political body," he said.
Expressing support to safeguard Sri Lanka's self-respect, sovereignty and territorial integrity, the Chinese Vice President, Li Yuanchao also told External Affairs Minister Prof. G.L. Peiris in Beijing recently that the use of human rights as a device to interfere in the domestic affairs of a country cannot be approved.
Minister Samarasinghe said, "to call for an international inquiry before even the domestic inquiry commences and continues to insist when a domestic inquiry is in progress, is a very partial and subjective manner of action by the Human Rights Chief adding that this will be raised again by the Sri Lankan delegation at the forthcoming session.
Prof. Peiris left the country yesterday morning for Myanmar from where he will proceed to Geneva to lead the Sri Lanka delegation at the opening session.