Improper waste disposal, a colossal loss to the country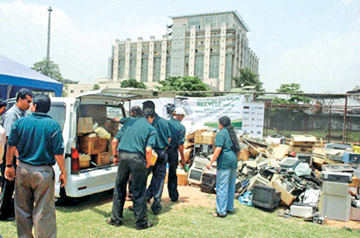 Collecting e-waste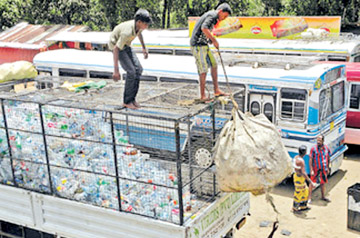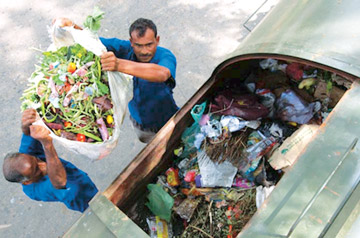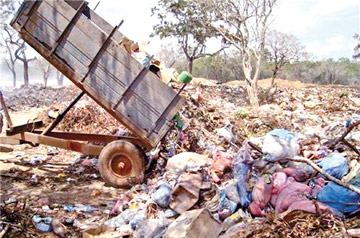 Waste disposal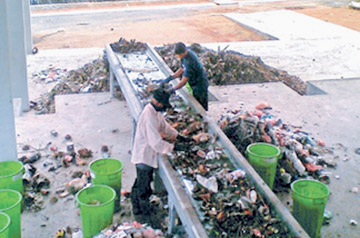 A recycling plant
Sri Lankans contributed to collect 15 million lunch sheets a day according to a research done jointly by the University of Kelaniya and the Central Environment Authority in 2012.
Researchers revealed that 20 million shopping bags are dumped each day while 20 million
yoghurt cups and one million sachet packets are dumped per month. Every time some one goes shopping he/she brings home several polythene bags which are not recycled or reused. Around six to seven shopping bags are discarded each day by a family. That number has to be multiplied with approximately 4.2 million families in the country.
Garbage is a persistent problem as it is not disposed properly. Solid waste managemnet is a vital factor to mitigate the adverse effects of environmental pollution.
Public places are worst affected. A popular place like Sri Pada is known to collect two and half truck loads of waste per day. The quantity of waste increases according ot the number of visitors according to the Central Environment Authority.
In controlling the garbaeg menace the authorities have taken two important steps such as post consumer plastic management and solid waste management.
Post Consumer Plastic Waste (PCPW) has created problems in all communities in a major way. Though numerous steps have been taken to address the problem it still remains unsolved. due to the improper disposal of garbage which causes enormous damage to the environment.
Imports
Sri Lanka imports annually a considerable amount of plastic raw materials
and finished products and a major portion of them ends up as Post Consumer Plastic Waste causing severe environmental problems. The Project was initially funded by 1 percent Cess imposed on imports of all plastic raw materials and finished goods and thereafter it was increased up to 10 percent on reducing prices of virgin plastics due to a fuel price drop in 2009.
Under the National Post Consumer Plastic Waste Management Project, the Central Environment Authority over the years has come up with different programs to address the problem. The National Post Consumer Plastics Waste Management Project will focus on three main programs such as development of regional plastic waste collection system, development of plastic recycling network and awareness and promotional campaign.
The project, implemented in mid 2007, also focus on the behavioural change among consumers to ensure proper disposal of plastic waste and to put in place the necessary logistics to enable the collection and recycling.
Contamination
A considerable portion of the post consumer plastic consist of lunch sheets, grocery bags and carrier bags.In recycling these plastic and polythene the biggest problem is its contamination with dirt - in the case of lunch sheets those are thrown away with left over food . These contaminations need to be removed, thus these post consumer plastic waste was washed before recycling.
To expedite this process the CEA established a new system to wash the waste in recycler plants.
The washing plants are set up in Western province - one for each district.
Heavy polythene is easily accepted by the recyclers as those are easy to recycle and less contamination. Plastics are especially troublesome, as different types of plastic require different processing to be reformulated and re-used as raw material. Recycling e lunch sheets, shopping bags is not a an easy task.
Solid waste
Garbage is indeed a problem that has spread far and wide and is affecting people from all walks of life. Garbage not only is a eye-sore but also helpd breed mosquitoes and attract flies..
Municipal Councils spend millions of rupees a day on garbage collection.
This garbage mostly include discarded vegetable and fruit particlesand solid waste.
The shortage of dumping sites for the local authorities has worsened the situation as open dumping sites create huge environmental and health issues Through the CEA the Local Authorities were given the technical know-how and the funding to tackle this issue and made use of this municipal waste as a resource based on the limited space and facilities they have.
On a rough estimation, in the western province alone, 60 to 70 percent of the waste are perishable waste and another 15 to 20 percent is recyclable waste. Therefor, waste can be used as a resource. The composting of perishable waste is also implemented at different level at houses and and local authority level.
While using different techniques to manage, recycle solid and post consumer plastic waste the authorities need to set up a technique to change the behavioural patterns of the humans if we wish to have a clean environment.
---
Identifying plastics
Numbers ranging from one to seven surrounded by a triangle of arrows was
designed by the Society of the Plastics Industry (SPI) in 1988 to allow consumers and recyclers to differentiate types of plastics while providing a uniform coding system for manufacturers.
Easy Plastics to Recycle - number 1
The easiest and most common plastics to recycle are made of polyethylene terephthalate (PETE) and are assigned the number 1. Once it has been processed by a recycling facility, PETE can become fiberfill for winter coats, sleeping bags and life jackets. It can also be used to make bean bags, rope, car bumpers, tennis balls, combs, cassette tapes, sails for boats, furniture and plastic bottles.
Found in: soft drink, water and beer bottles; mouthwash bottles; peanut butter containers; salad dressing and vegetable oil containers; ovenable food trays.
Number 2 -
Number 2 is reserved for high-density polyethylene (HDPE) plastics. These include heavier containers. These are widely accepted at recycling centres.
HDPE is a versatile plastic with many uses, especially for packaging. It carries low risk of leaching and is readily recyclable into many goods.
Found in: milk jugs, juice bottles; bleach, detergent and household cleaner
bottles; shampoo bottles; some trash and shopping bags; motor oil bottles; butter and yoghurt tubs; cereal box liners.
Number 2 is often recycled into toys, piping, plastic lumber and rope.
Plastics Less Commonly Recycled - Number 3 *
This includes Polyvinyl chloride (PVC), commonly used in plastic pipes, shower curtains, medical tubing, vinyl dashboards, and even some baby bottle nipples. These are rarely recycled; accepted by some plastic lumber makers. Once recycled can be conerted in to decks, paneling, mudflaps, roadway gutters, flooring, cables, speed bumps, mats.
PVC is tough and weathers well, so it is commonly used for piping, siding
and similar applications. PVC contains chlorine, so its manufacture can release highly dangerous dioxins. When cooking with PVC, don't let the plastic touch food. Also never burn PVC, because it releases toxins.
Found in: Window cleaner and detergent bottles, shampoo bottles, cooking oil bottles, clear food packaging, wire jacketing, medical equipment, sliding, windows, piping
Number 4 - The low density polythenes (low density polyethylene - LDPE) Number 4s include wrapping films, grocery and sandwich bags, and other containers made of low-density polyethylene. Once recycled can be used in trash can liners and cans, compost bins, shipping envelopes, paneling, lumber, landscaping ties, floor tile. LDPE is a flexible plastic with many applications.
Found in: Squeezable bottles; bread, frozen food, dry cleaning and shopping bags; tote bags; clothing; furniture; carpet .
Number 5 - PP or Polypropylene *
Polypropylene has a high melting point, and so is often chosen for containers that must accept hot liquid. It is gradually becoming more accepted by recyclers. When recycled can be used in signal lights, battery cables, brooms, brushes, auto battery cases, ice scrapers, landscape borders, bicycle racks, rakes, bins, pallets, trays.
Found in: Some yoghurt containers, syrup bottles, ketchup bottles, caps, straws, medicine bottles
*6) Number 6 Plastics - polystyrene (Styrofoam) *
The Number 6 was long on environmentalists' hit lists for dispersing widely across the landscape, and for being notoriously difficult to recycle.
Polystyrene can be made into rigid or foam products - in the latter case it is popularly known as the trademark Styrofoam. Evidence suggests polystyrene can leach potential toxins into foods. Most places still don't accept it, though it is gradually gaining traction.
Found in: Disposable plates and cups, meat trays, egg cartons, carry-out containers, aspirin bottles, compact disc cases
Recycled into: Insulation, light switch plates, egg cartons, vents, rulers, foam packing, carry-out containers
Number 7 Plastics - Hardest Plastics
Are crafted from various combinations of the above mentioned plastics or from unique plastic formulations not commonly used. A wide variety of plastic resins that don't fit into the previous categories are lumped into number 7.
The controversial Polycarbonate falls in to number 7. A few are even made from plants (polyactide) and can be turned in to compost.
When recycled can be used in manufacturing plastic lumber and custom-made products.
Found in: three- and five-gallon water bottles, 'bullet-proof' materials, sunglasses, DVDs, iPod and computer cases, signs and displays, certain food containers, nylon.