Maga Engineering turns 30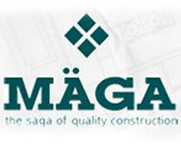 Maga Engineering unveiled its new logo to mark its 30th anniversary in the construction industry, in Colombo last week.
"We have come a long way to celebrate 30 years in the business and are happy to see ourselves as one of the industry leaders. Our position is further consolidated in the construction industry in terms of revenue, timely completion and quality of work," Maga Engineering Chairman and Managing Director M.G. Kularatne said.
The company has completed over 100 sub-contracts overseas including bridges, roads and marine work.
"We hope to secure more overseas projects to fuel growth. As the key focus of Maga Engineering is growth, technology and sustainable development, we will equally consider local and foreign projects," he said.
All projects handled by Maga Engineering have been completed ahead of schedule and it accounts for 30 percent of the work handled by the top five building contractors in the country. The company has completed 400 local and foreign projects to-date.
"We have work in hand worth Rs 100 billion and with the launch of the Northern expressway project the total value of work-in-hand will be over Rs 170 billion. The company is growing steadily and records an year-on-year growth of 25 percent," Kularatne said.
- SJ