Retail therapy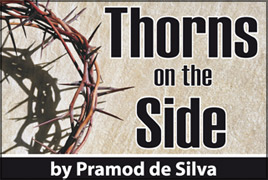 The tail end of the year is always a good time for shopping. If you read any newspaper, you will see countless advertisements for 'sales' that try to lure people to shops with the promise of alluring bargains. Apart from the shops themselves, banks fall over each other to offer deals on their credit and debit cards at this time of the year.
The services sector, particularly hotels, also cash in on the season, offering rooms and dining options at unbelievable prices.
Some of the major shopping malls and upmarket stores here take on a snowy theme during this season, although this country does not experience even one drop of this substance, except perhaps Nuwara Eliya which occasionally sees some frost. Not to be outdone, even the pavement hawkers decorate their stalls nicely to attract passersby. Santa also enters the picture in a big way, promising goodies to all the children who visit retail stores.
Globally, goods worth billions of dollars are sold during this festive season physically and online. In Sri Lanka too, it has become THE season to go shopping. Hordes of people can be seen in the major shopping areas and malls as we get closer to Christmas and New Year. In any case, most Sri Lankans hardly need an excuse to go shopping.
With school holidays coming up, family shopping trips become more frequent.
The Christmas season has always been good for business, actually starting from mid-October. November has turned into one of the busiest shopping months, thanks to relatively new international phenomena such as Black Friday (the day after Thanksgiving Day especially in the USA and falls on the Friday after the fourth Thursday in November - this year, it falls on November 28) and Cyber Monday (the Monday that comes immediately after Black Friday). Hefty discounts are the order of the day on Black Friday - who does not like to see 50 percent or more off on a given product?
Opinion
The popular opinion is that Black Friday got its name from the days when bookkeepers did everything by hand, and on that day, a move from red to black ink (red-loss, black-profit) was a good thing for retailers. A more popular theory: The term "Black Friday" was actually coined by the Philadelphia Police Department, thanks to overcrowded streets, sidewalks and stores, and the extra problems that they experienced.
The Black Friday shopping frenzy has now spread to many other countries in both developed and developing worlds. Clothing and clothing accessories are the most-bought items during Black Friday, with 57.5 percent of adults listing it on their shopping list, followed by electronics at 37.7 percent, books/CDs/DVDs/videos/videogames at 36.1 percent, and toys at 34.5 percent. Both physical and online retailers make a killing on this day.
Cyber Monday is a nod to the immense power of Internet retailing, where companies such as Amazon dominate the landscape. Its sales may be a fraction of the sales of Wal Mart, the world's biggest physical retailer, but the entry of China's Ali Baba to the global online retail is a pointer to the future of retail.
Online purchases have increased thanks to the widespread use of tablets, smartphones and dedicated shopping apps. The Internet has also made early Christmas shopping possible, with ample time left for deliveries of gifts to friends and relatives far and near. Now there is no need to wait until the last minute crunch to complete your holiday shopping.
There are many advantages of shopping online.There is no need to wait in a long queue for hours on end. You can shop to your heart's desire from the comfort of your armchair (or wherever you are) at any time of the day or night.
Another beneficiary of this season is your nearest courier company. Courier companies have their hands full with Christmas gifts from November right up to December 24. Somewhat ironically, online shopping has actually increased physical deliveries of goods.
There is an increased demand for high-priced luxury goods at both physical and online stores, even if it is impossible with current technology to actually touch and feel goods like luxury handbags from an online shopping portal.
Discount
Physical or online, many discounts and 'sales' come with certain caveats. The retailer may want to finish stocks of an old model of a product or the goods offered may have a slight imperfection. Some cash and credit sales come with a catch (such as 20 percent discount only for purchases above Rs.5,000), so be sure to read the associated terms and conditions (or ask a salesperson for the same) before taking your cash out. In the case of foods, do check the expiry date because it could be alarmingly close.
As always, it also pays to look around, because the same product could be sold at different price points at different stores. Also, if you personally buy and import products from a foreign website, be mindful of any taxes and duties you might have to pay at the port of entry.
Shopping is fun and addictive, especially when you add great prices into the bargain, literally. It is called "retail therapy" precisely due to this reason. It gives us a mental boost, even if we have to part with some of our hard-earned money. No wonder, then, that shopping is a favourite pastime of many people.
It is also a season of giving and sharing that enables us to enrich our real (not Facebook) social lives.Giving a gift makes us happy and the recipient too becomes happy. Shopping is a joyous experience, enhanced by the spirit of the season. At the same time, it is a minefield of not so genuine deals out there, which should be navigated with care.
Always do read the fine print. And one advice is valid for all time: If you do not need it, do not buy it, whatever the price, whatever the season. The old adage "think before you leap" is most appropriate in this instance.