Sumathi Tele Awards at BMICH
The 19th Sumathi Awards 2014 will be held at the the Sirimavo Bandaranaike Exhibition Centre (BMICH) on November 27 at 6.30 p.m.
The selected nominees for the Sumathi Awards were announced at a press conference at Sumathi Court, Colombo 3 recently.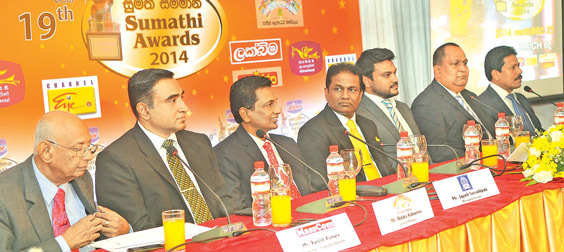 The Sumathi Awards will be given to 36 artistes in the television field.
The television media has a sweeping effect on society. Today more people are drawn to teledramas with the downward trend in films.
The Sumathi Group of companies headed by Milina Sumathipala in association with Fonterra Brands Sri Lanka will hold the 19th Sumathi Awards ceremony to recognise the talents of tele artistes.
Fonterra Brands Sri Lanka Marketing Director, Roshan de Silva said the company was honoured to partner the upcoming Sumathi Awards 2014 for the first time and be a part of the celebration held in recognition of excellence in television. "Having operated in Sri Lanka for almost 40 years ,we take great pride in celebrating Sri Lankan talent," he said.
"The nominees of the awards show the passion and commitment of tele artistes. We hope that by giving an opportunity to witness some of Sri Lanka's best in television, the young generation will be inspired to become tele artistes in the future," he said.
He said this sponsorship is part of Anchor's Senehase Thilina initiative through which the company seeks to help the local community.
Sumathi Television Festival Promotes conferment of Awards ranging from the category of over 25 "Best Awards" to about 20 merit Awards, commercial, popular and U.W. Sumathipala Commemoration awards covering Rs. 250,000 or more annually.
The number of awards increases yearly, depending on the spectrum of the festival and extension of particular items and aspects.
The U.W. Sumathipala Commemorative Award, a life-time presentation with a cash prize, will be presented to tele artistes who rendered a great service to the industry.