Opposition's conspiracy with LTTE rump come to light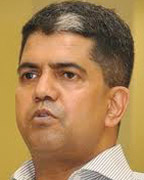 The conspiracy hatched in the West and plotted at former President Chandrika Bandaranaike Kumaratunga's official residence came to light when the Global Tamil Forum (GTF) jumped the gun, claiming that they would take President Mahinda Rajapaksa to an international war tribunal if Maithirpala Sirisena wins the next Presidential election.
A day after Maithripala Sirisena was named the joint Opposition candidate following a conspiracy by Kumaratunga and her confidant, UNP parliamentarian Mangala Samaraweera, the GTF has disclosed its future plans. The LTTE front organisation is yearning to take the leaders who ushered in peace to the country before the international courts in Hague with the support of opportunistic Opposition politicians.
Suren Surendran of the GTF had told Al Jazeera television that they plan to take President Rajapaksa before an international war tribunal for alleged war crimes if the joint Opposition candidate emerges victorious. He has said that it will be easy to take President before the war crimes tribunal if he loses the immunity as the Head of State.
Isn't this an indication on the links between the common Opposition and the LTTE cohorts to discredit the country and take the leader who saved the nation from LTTE terrorism before the international war crimes tribunal?
However, on a previous occasion, the President, who gave an unmatched political leadership to the Security Forces during the country's relentless battle against terrorism, had said that he is ready to go before any international court on behalf of the true sons of our soil who had eradicated terrorism and ushered in a peaceful country for all communities to live in peace and harmony.