Sanda Hiru Seya Sacred Relics to be enshrined by President today
The concluding ceremony to enshrine Sacred Relics at the hemispherical dome of the Sanda Hiru Seya Stupa would be held today under the patronage of President Mahinda Rajapaksa.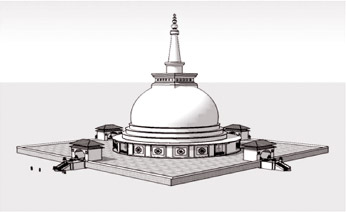 The Sanda Hiru Seya was constructed on the direction of President Rajapaksa in appreciation of the noble service rendered by the security Forces and Police to defeat terrorism and bring lasting peace to the country.
The Sanda Hiru Seya is being built by soldiers with the support of the Navy, Air Force and Civil Defence Force.
The seya is 285 feet in height and 255 feet in width. The construction of the Sanda Hiru Seya in appreciation of the services of the security Forces and the Police to defeat terrorism and bring peace to the country is being carried out on the directions of Defence and Urban Development Ministry Secretary Gotabaya Rajapaksa in the ancient city of Anuradapura.
The Chaithya, constructed at the historical site where the battle between King Dutugemunu and King Elara took place, is 285 feet high and 255 feet in wide. When completed, this will be the fourth biggest Chaithya in Sri Lanka. It is constructed at Anuradhapura (near to southern entrance of Sri Maha Bhodi and opposite the Sarananda Pirivena).
The Sanda Hiru Stupa in Anuradhapura is the first Stupa to be constructed to commemorate the dawn of peace to the motherland after the elimination of of 30 years of terrorism.
The Sacred Relics obtained from several Buddhist temples throughout the country will be enshrined at the Sanda Hiru Chaithya following the system of relics enshrinement at the Ruwanweli Seya more than 60 years ago.
A series of traditional ceremonies including Kapruka installation will be followed by the chanting of Seth Pirith by the Maha Sangha from November 15 to 22 at the Chaithya premises.
The relics will be placed inside a valuable gem donated by Sripadasthana Viharadhipathi.