'Ranil has found the ideal scapegoat'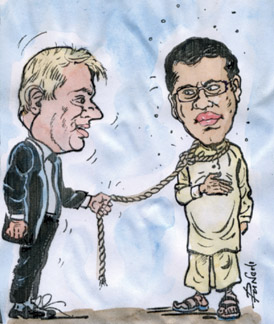 Plantation Industries Minister Mahinda Samarasinghe and several other UPFA Ministers who pledged to work for President Mahinda Rajapaksa's victory at the forthcoming election, said Minister Maithripala Sirisena has fallen into a trap set by the UNP with the connivance of external forces.
"I see this as a conspiracy to destabilise the country; there are powerful external forces manipulating the whole situation', Minister Samarasinghe said while Senior Minister Prof. Tissa Vitharana termed the latest defection as a ploy by the weak UNP leadership to come to power.
"If the objectives set by former Minister Maithripala Sirisena and others are achieved, he will enjoy power of the Executive Presidency for a very short period after which power will be passed on to Ranil Wickremesinghe and the UNP," Minister Vitharana said.
Minister Samarasinghe said he will work tirelessly to ensure President Rajapaksa's victory.
Construction, Engineering Services, Housing and Common Amenities Minister Wimal Weerawansa said, "The abolition of the Executive Presidency is a ploy by these forces to bring about a regime change and destabilise the country."
He said this was what the LTTE diaspora yearned for. "These hawks are at play again and are trying to fulfil the hopes they lost during January 2010 through a different candidate this time."
Sugar Industry Development Minister Lakshman Senewiratne said if Maithripala Sirisena wants to abolish the Executive Presidency within 100 days and appoint Ranil Wickremesinghe as the Prime Minister, what will be his position after 100 days? Is this the mandate he is seeking from the people?