Madhumadawa Aravinda endorses Govt vision
The Jathika Hela Urumaya Gampaha district organiser Madhumadawa Aravinda had decided to defy his party, following the JHU's decision last week to quit their Ministries and distance itself from the Government but remain within the UPFA.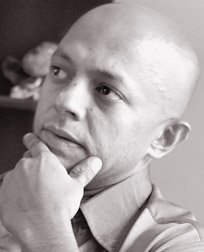 The popular singer and one- time Municipal Councillor said the decision of the JHU did not represent the majority view, but came rather as a unilateral dictat by Ven. Athuraliye Rathana thera which in his opinion will destroy the political careers of popular JHU leaders. Explaining his future course of action, Aravinda said he would continue to support the Government and was also eagerly waiting to play a role in a future campaign headed by the Defence Secretary.
Excerpts of the interview: The Jathika Hela Urumaya is a respected political party. During the last few months, I felt the party was being dragged on a different track by the Pivituru Hetak program by Ven. Athuraliye Rathana thera.
The reason behind this shift is Ven. Rathana thera. The thera had reservations about his vote base in Gampaha with the UPFA. All these past months, until recently he hardly took part in any activity of national interest. He knew, as a result he was losing his base in Gampaha. It was a result of his own inaction.
When the issues of forced religious conversions, Halaal and extremist Islamic forces were brewing all over the country, nothing was heard from Ven. Rathana thera. He was silent. But all of a sudden he has risen and shouting at the top of his voice about the abolition of the Executive Presidency. This, I say is strange behavior.
Due to Ven. Rathana thera's silence, many alternative forces such as civil society groups and Buddhist groups emerged to counter the looming threat to Buddhism. The JHU should have been in the forefront but that leadership was noticeably lacking from Ven. Thera when it was needed most.
The Thera stepped down as the head of Divulapitiya Development Committee and made a massive media showdown.
He could have stepped down but remained with the Government and conveyed his displeasure to the party leaders. Instead he wanted to be a hero.
The Thera is famous for coming out with popular slogans at the 'right time'. He did this during the Mavil Aru issue. Now his so-called populist slogan is the abolition of the Executive Presidency.
He wants a change within 24 hours. I see this as an attempt to win back his vote base. Pivithuru Hetak was created when we got wind of the next election. Since he has lost his UPFA votes, he could dream of attracting some of the UNP votes now.
Many of my well wishers question as to why I did not attend the Pivithuru Hetak convention and JHU's eleventh convention. I am the Gampaha district JHU organiser.
I did my part during the days when it was Sihala Urumaya and contributed to the Sihala Rawaya and Sinhala Veera Vidana. I used to sing, recite poems at the JHU conventions and had my heart and soul to organise walks for the party.
I heard that Ven. Rathana thera has put conditions that if my speech at the convention is allowed, he will boycott the event. He had also demanded my removal from the Party's Central Committee.
Party members, especially Buddhist monks sympathised with my position and said this was a one off incident and that bigger personalities like Anagarika Dharmapala too had to face similar treatment.
I remember that many party stalwarts left the JHU for the way Ven.Rathana thera conducted himself, notable among these people are Tilak Karunaratne, S.L.Gunasekera, former IGP Kotakadeniya, and as many as about ten dedicated Bhikkus. The number of laymen who left the party, disheartened at his actions are even more.
Members of our party did not expect a 'bottle' or lunch packet in return for their loyalty. They funded their own lunch and were generous towards party activities. I have a lot of respect for JHU leaders like Patali Champika Ranawaka, Udaya Gammanpila and Nishanha Warnasinghe.
They have not pilfered public property and do not have corruption charges against them.
I have never witnessed such dedication. Former Minister Ranawaka had a long and highly successful career before him. He could have become the Prime Minister of this country one day. All that was snatched away due to one person's actions.
Ven.Rathana thera who was in a state of inaction a year ago, has suddenly sprung into action. It was following his realisation that an election is round the corner and he needs to be conscious of votes.
The leader who gave leadership to eliminate a ruthless terrorist organisation, that was once thought to be invincible, has been labelled a cheat. The Thera paved his exit from the UPFA by his raucous talking. There is a way to talk to your leaders even of the worst kind.
We need a future plan of action, before we decide to walk out of the Government. I cannot begin to think how we camp up with TNA, SLMC and the likes of Mano Ganeshan, abandoning a Government which defeated the LTTE.
Pivithuru Hetak had very noble objectives at first, such as farming without poison ( Wasa Wisa Nethi Govithenak), etc. How it suddenly took a political twist, I cannot fathom.
A father would have blessed his son's progress, he will never destroy their future. In 1997, no one knew who Patali Champika was but today, all would endorse that he is a leader sans corruption. This action by Ven.Rathana thera would jeopardize Patali's and other promising JHU leaders political career.
I agree that there may be issues within the Government, allegations of bribery and corruption, but the UPFA needs a voice to represent the Sinhalese majority - to talk and work on behalf of them. I strongly believe that we must remain with the Government.
We were the force within the Government that successfully rose against the Casino Act.
I met President Mahinda Rajapaksa and Defence Secretary Gotabaya Rajapaksa after my decision to support the Government and not to align myself with the JHU in its recent resolve. The President and the Defence Secretary did not reproach my leaders for their actions but said JHU was the party that helped the Government to shine among people. I was expecting them to shout.
They understood how hard it was for me to walk out of my party. I explained how much I respected former Minister Ranawaka and Udaya Gammanpila and that I will never utter a word against their decision to join Ven.Rathana thera.
Former Minister Champika left his official residence and moved into a rented house. We did not accumulate wealth as corrupt politicians.
Only Ven.Rathana thera has a luxury temple on a 3.5 acre land surrounded by a lake. It serves as the office of the Pivithuru Hetak movement.
The JHU Ministers only dedicated their time to work not to make money.
This is a Sinhala country. But any minority community can live here peacefully, attempts to bring in new sub-cultures, religious or otherwise, will not be tolerated. JHU stood against such forces like Wahhabism, etc and I will continue to tread that path.
There is talk now that the Defence Secretary will enter politics someday and I am waiting till that day to join his campaign.