Tirumala temple barbers tonsure 20,000 pilgrims' heads daily
They come in thousands to pray at one of India's most popular pilgrimage destinations at the town of Tirumala in the South Indian Seshachalam Hills, Each year religious fervour is at a high point when the Hindu pilgrims display their devotion to Sri Venkateswara, the deity at this temple, by completely tonsuring their heads.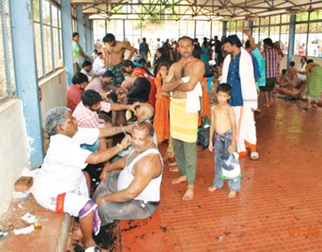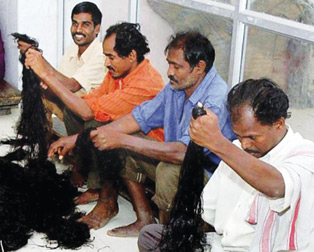 Originally the temple was a Tamil Holy site to Sri Venkateswara identified as another incarnation of Lord Vishnu.Tonsuring one's head is a traditional ritual to show one's love for the Gods and to wash away one's past and start anew. The hair is a symbolic offering of one's beauty and in return one expects blessings.
According to the scriptures, all Hindus are advised to shave their heads at least once during their lifetime. This is usually done shortly after birth, and staunch devotees continue to donate their hair multiple times during their lifetime. Tonsuring is viewed as a kind of sacrifice, and also a way of shedding the ego.
Going by ancient lore there's actually a rather interesting story behind this unusual practice., Sri Venkateswara is believed to have taken a loan to fund his own wedding celebrations. The debt was so huge that he continues to pay it off to this day, and requires assistance in doing so. And his devotees are more than happy to help by donating their hair to the cause.
The local temple receives donations from at least 20,000 devotees each day, so they've employed a whopping 600 barbers to get the job done. The tonsuring takes place in a specially designated building that's separate from the main temple, and also at 16 smaller locations around town. Thousands of pilgrims sit cross-legged on the floor with their heads bent forward, as the barbers work their scissors and razors at lighting speed.
Although unbelievable, the Tirumala temple collects 500 tons of human hair each year, which they auction off to hair extension makers across the world. According to several experts, Indian hair is considered one of the most valuable in the world, owing to its naturally silky texture and also because it is unblemished by artificial hair products. This has placed the temple at the centre of a very lucrative, high-paying market. Last year alone, they raked in an annual revenue of 200 million rupees ($3.6 million).
Surprisingly, the pilgrims (most of whom are poor), are unaware that their donated hair is sold at such exorbitant rates. In fact, many of them don't even know what hair extensions are. But even if they did know, they most likely wouldn't be fazed.
"They don't mind their hair being sold because the Tirumala Tirupati Devastanam (the temple's governing body) is doing free tonsuring, free accommodation, free food, free marriages," said Patheti Srinivasarao, who is in charge of the collection, categorisation and sale of the shaved hair.
---
SnookBall - A crazy sport
You may wonder what sort of a whaky sport this is - to play snooker with your feet.
It is a combination of snooker and football and played on a giant billiards table that multiple players can walk on.It's crazy fun because you actually get to kick the balls into pockets instead of using a cue stick. All the rules are the same as snooker, except that you use your feet instead of a cue and the balls are replaced by footballs.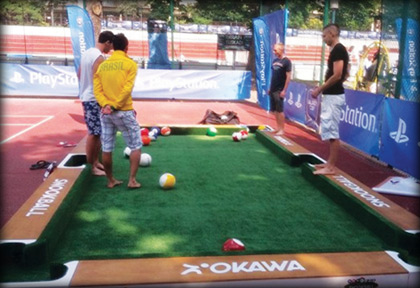 A couple of French entrepreneurs - Aurélien and Samuel - who are well known for their weird ideas are responsible for this crazy sport. It is generally a two player game, but the table can accommodate up to four players. All the footballs retain the look of standard billiards balls, but are obviously larger and lighter. The white striker ball is slightly heavier than the rest, just to make the game more interesting.
SnookBall has two different variations - Game of eight and Game of nine. In the Game of eight, the player who pockets the first ball gets to make his choice between the solid and striped balls.
Then, the balls (either nine or 15) are arranged in a triangle, with ball number one at the top and number eight in the middle of the third line. The game commences and each player tries to pocket all the balls in his group. The game is lost when the number eight is either pocketed before all the other balls or leaves the playing surface, or when the white ball is pocketed or leaves the table after pocketing the #8 ball. If you've played billiards before, you already know these are standard rules.
In the Game of nine, players need to aim for the number nine ball. But this does not indicate an immediate victory - players need to go through a predetermined number of rounds and the one who wins the maximum number of rounds wins the game. Again, the balls are placed in a triangle with number one at the top and number nine in the centre.
---
An hourglass figure or a health hazard?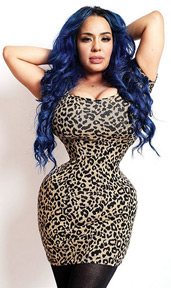 To possess an hourglass figure may be one of the assets a woman would always dream of. That means 32-24-32 inches. But if the 22 inch waist shrinks to 16 what would be the result?
You can figure it out while observing the photograph of fetish model Kelly Lee Dekay. She created a sensation with her 16-inch waist – an incredible measurement she achieved by constricting her ribcage and stomach using corsets. This is a technique known as "waist training."
Waist training is the process through which you slim your waist down using corsets. You start with a corset that's bigger than your actual waist, and gradually takes months and months to waist train, using different sized corsets to further constrict your ribs. The effect is astounding, but it's actually quite dangerous.
There are a multitude of potential health problems when you have such a tiny waist.
Firstly, you don't have as much room for your organs. Your organs will gradually move as the rib cage gets tighter and tighter.
Along with this, you might find it difficult to breathe as your lungs will not be able to expand to their full capacity. It could also cause damage to your ribs.Although waist training can cause health issues it has become the latest fashion trend at present.
Waist training seems to have come back into fashion since Kim Kardashian instagrammed a photo of herself wearing one. According to news reports other celebrity fans of waist training include burlesque dancer Dita Von Teese and Jessica Alba.
But the Guinness world record for the smallest waist is held by Cathie Jung, who has a waist of 15 inches in a corset, and 21 inches without it.
More remarkably, the.average waist of a woman in the UK is 34 inches, an increase of 7 inches since the 1950s.