To get over the bad spell...... :
Sri Lanka to experiment against England - Angelo Mathews
While Sri Lanka skipper Angelo Mathews prefers to bury the hatchet of the recently concluded India series which the Lankans lost 0-5, England captain Alistair Cook and his team will come hard on the Lankans to compensate England's last summer's (2-3) ODI loss when the two teams confront each other in a seven match 50 overs limited overs cricket series which will begin on November 26th at the R. Premadasa International Cricket Stadium at Khettarama.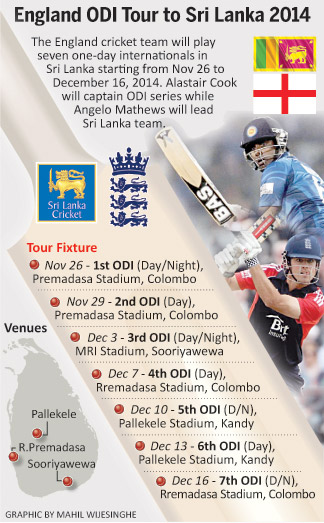 Mathews said that the last Indian tour was really disappointing and have flushed it down the system and have to get their problems solved quickly and move on. "Just one series won't make us a bad team. We had quite an experience in India, we know what went wrong and have identified the mistakes.
Some young players are bound to wilt under pressure situations and we will try to get over the situation through experience. We want to try a few experiments against England and rectify the batting and have a set batting order and also try out two or three new faces whom we have to look at and move on from there. In India we failed to impress in all three departments of the game, and hopefully against England we could find the right combination".
The Indian tour has also exposed the urgency of an opening batsman. The Sri Lankan openers in the concluded Indian series failed to give the early advantage. Regular opener T.M. Dilshan was not at his best and the other two Kusal Janith Perera and seasoned Upul Chandana was also a flop.
England will no doubt try to hit back strongly amidst the Sri Lankan debacle in India few weeks ago and try to establish themselves as a strong force in limited overs cricket. Many critics feel that England are not playing in conformity of the norms of modern day limited overs cricket to be a strong contender for the 2015 World Cup.
However, England have made their first unconventional move by trying the bearded left- hander Moeen Ali as an opener instead of their regular opener Alex Hales. Ali is primarily an off spinner who was the match winner against India.
Ian Bell partnered skipper Cook as openers for England prior to Hales coming as an opener. England too are trying some experiments to find their right combination during their stay in Sri Lanka.
England will also play Australia and India in a triangular series prior to the World Cup competition.
The England coach Peter Moores was positive and was keen to win the series. To do that the side should excel with both bat and ball he said. He emphasised on the importance of scoring lot of runs to insert the pressure on the opponents. He mentioned Rohith Sharma's 264 against Sri Lanka as a classic example as to how he piled up the runs and the agony on the Lankans nonchalantly at the beginning and later accelerating.