'New Govt should strengthen Indo–Lanka ties'
With the election of President Maithripala Sirisena on January 9 and the decision by the newly appointed External Affairs Minister Mangala Samaraweera to undertake his first official overseas visit to New Delhi, there are indications that Indo-Lanka relations are eventually heading in the right direction, a media release from the Pathfinder Foundation said.
Extracts of the release
Given Sri Lanka's proximity to India, and its strategic position in the Indian Ocean, it is natural for New Delhi to develop a keen interest in political, economic and strategic developments in the island.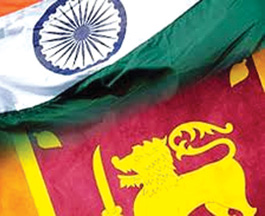 With the new administration taking over office in Colombo, leaders of the two countries are today in a position to re-set Indo-Lanka relations, aimed at addressing issues of mutual interest and concerns.
The Pathfinder Foundation has focused on improving Indo-Lanka relations since 2012.
The Foundation teamed up with Manipal Global Education and completed a report on "Resetting India-Sri Lanka Relations', which was released in October, 2012.
More recently, the Pathfinder Foundation teamed up with the Vivekananda International Foundation based in New Delhi and following the election of Prime Minister Narendra Modi, issued a joint release in April 2014 on 'Resetting Indo-Lanka Relations - irreversible excellence is the goal'.
In November, 2014 representatives of two institutions conducted a seminar in New Delhi that focused on strategic and security issues, extremist threat to South Asia, economic issues (development of ports, improving connectivity and tourism), bi-lateral political relations and Buddhist-Hindu dialogue.
The Pathfinder Foundation and Vivekananda International Foundation recently signed a Memorandum of Intent to cooperate on issues of bilateral interest.
There can be no denying the fact that the bilateral relationship between the two countries is less than optimal and marred by irritants.
Dialogue
To restore ties between the two countries to a state of 'irreversible excellence', a term coined by a former Foreign Minister of Sri Lanka, it is imperative that a structured and meaningful dialogue, based on mutual respect and sovereign equality, is put in place.
This should be complemented by increased and multifaceted contacts at the popular and civilisational levels to promote wider dialogue and greater understanding.
Exemplary Indo-Sri Lankan ties would rebound to the political and economic benefit of both countries and the region.
A peaceful and prosperous Sri Lanka, enjoying close ties with India, would be a factor of strength for India.