Two-thirds majority within reach:
SLFP high-command supports Govt's 100-day program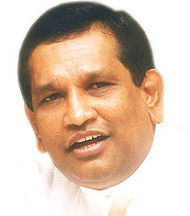 Health and Indigenous Medicine Minister Dr. Rajitha Senaratne said that ninety nine percent of the SLFP is with President Maithripala Sirisena and they endorsed the Government's 100-day program.
When the SLFP high-command met President Sirisena, they said that they would wholeheartedly support our 100-day program. Their only wish was not to break away from the SLFP. The President assured them that no such move would be taken, the Minister told the Sunday Observer yesterday.
"Dr. Senaratne said that if the SLFP is supporting us, we will have to accept that as well. The SLFP will be there for us. We will get the two-thirds majority in Parliament, not a simple majority. All Provincial Councils and Local Government bodies will be with us very soon. They all have pledged us support."
When asked about the change that Sri Lankan voters hoped for, the Minister said that they voted for freedom and independence.
This is a landmark decision taken by them and the entire civilised world waited for this result. Europe, USA, our neighbour India and all peace-loving people in the world are very happy about this victory.
Minister Senaratne said that the Philippines also had the same development under President Marcos. But the people rejected Marcos and toppled him. Suharto also faced the same fate in Indonesia.
He also launched massive development such as airports, roads and other infrastructure facilities. In fact, they earned a lot and there was no freedom for the people. Therefore, the people rose against him.
The same plight befell this type of rulers everywhere including Gaddafi in Libya and Mubarak in Egypt.
They provided certain benefits to the people. But what the people wanted was freedom and independence. They showed high-rise buildings, expressways, ports and airports. But the people wanted three square meals, employment, freedom of expression and to get rid of poverty.
The basic needs of the people should be addressed. All categories of people came together for freedom, he said.