Let's end the suffering of the voiceless:
A new Welfare Act will end animal cruelty
Mid last week, there was an outcry in social media requesting help to get emergency treatment for a dog in Rajagiriya which was severely wounded when acid was thrown at it. According to those who posted on this Facebook page dedicated to street and vulnerable pooches, this dog was the pet of a particular temple in Rajagiriya where over some issue, this poor creature was attacked with burning acid.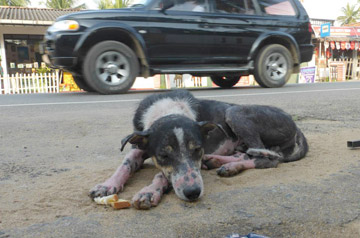 Luckily some people were wise enough to inform the police and for the dog, concerned, citizens informed the relevant social groups who work on such cases. Further details are yet to be revealed as the Police investigations roll on.
Parallel to these events another social media outcry was spreading on the torture of a female elephant in captivity in a leading temple in Colombo. In fact a video taken by a frequent visitor to the temple on how the animal was ill-treated by the mahout went viral on internet a few weeks ago.
There was talk among the activists that the issue has been brought to the notice of the monks at the temple and hopefully a solution will come.
Torture
Every living being has the right to live without fear, without torture. Yet in most cases humans have forgotten this rule of the Mother Nature and majority of the humankind continue to abuse the other species which they assume are inferior to them.
Humans have forgotten that all animals and plants are equal partners of this eco system.
Hundreds of animals if not thousands face cruelty and torture at the hands of 'inhumans' simply because they are born that way.
One could argue that when most of the members of the human species cannot understand the agony or the pain of another human being, how could we expect them to show empathy to an animal? Yet if our actions are wrong they need to be corrected as much as possible to honour the highly evolved brain and thinking ability the humans acquired through natural evolution. To honour humanity above all. According to Sri Lankan law, even dumping puppies and dogs is a punishable offence for two reasons - as a cruelty to animals and risking public safety in health.
"Action can be taken against people who commit such cruelty under the Cruelty to Animals Ordinance which was last amended in 1955.
Yet, timely changes were not made to the Ordinance for nearly 60 years," said Jagath Gunawardana, Attorney-at-law. Gunawardana has been actively involved in wildlife protection and animal welfare for over two decades and is the current Chairman of the Sri Lanka Environment Council operated under the Central Environment Authority.Twelve years ago an attempt was made to bring an Act for animal welfare, according to Gunawardana.
Provisions
"The bill was drafted and published for public opinion nine years ago, but nothing happened after that," he said. It was a still-birth.
"The attempt was to make a legal framework that looks in to animal welfare going beyond animal cruelty aspect. Yet it was not implemented," he said.
But the existing law also has provisions to cater to any case of animal cruelty. "Under section I and II of the Cruelty to Animal Ordinance, action can be taken for the safety of the animals," Gunawardana said.
The Cruelty to Animal Ordinance protects animals in captivity, domesticated or on any condition living under the custody of a human. Even if a person captures a wild animal, tortures it and/or kills it, that person can be prosecuted under this Ordinance.
"Even if it is a wild animal, if the person gets caught he comes under the purview of this Ordinance," he said.
What sort of regulations does this Ordinance give - do and don'ts? "The Ordinance does not mention any regulations as such or specify what ought to be done. What it says is what ought not to be done.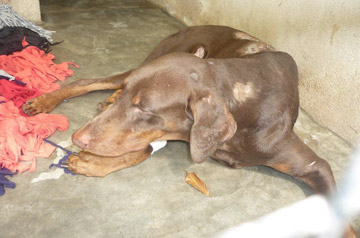 So we have to deduce from these facts. For example if an animal is not kept in an adequate space or in a cruel manner, this Ordinance gives provisions to take action against the human. So, from this fact we can deduce that animals need to be kept in spacious environments and when it comes to cruelty even the fact that not giving water or food to the animal is accounted for," he said.
Street pooch
Has this Ordinance being used effectively? "Yes very much in so many instances by the Police," Gunawardana said.
For example, according to Gunawardana who went on to explain the list of cases and two prominent ones had been in the past - in one case a person has been prosecuted who had kept a dugong to be killed the next day and another person who clubbed a Sambar captured from the wild. The Police have the provisions to take action against such cruelty.
Do the street dogs and puppies and stray cats come under the purview of the Cruelty to Animal Ordinance? "According to my opinion, yes, they should be, but it can be argued otherwise too," he said.
Dumping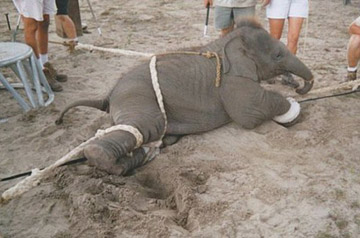 Activists against cruelty to animals raised their voice against authorities for rounding up street dogs and puppies and dumping them in far-away places when cleaning the city for CHOGM and recently for the Independence Day celebrations.
According to the law, rounding up street animals is not illegal, yet one can argue on the methods used to do this.
According to the law, if the methods harm the animal, torturing it, action can be taken even if it is done by a Government institute.
"There are two sides to this rounding up street animals - one is definitely the harm to the animal, and on the other side state is responsible for the healthy environment for its citizens.
But we also have to see whether such actions have really served the purpose of creating a healthy environment by reducing the number of street dogs and possibilities of spreading rabies.
Steps taken should give a sustainable solution," he said.
What are the weaknesses in this system? "Even if amendments are made to this Ordinance, it may outweigh the present needs. So the best option is to go for a new Act," he said.
As Gunawardana further stated there should be a uniform rule to cater to this issue irrespective of personal opinions.
"To the later drafted bill there had been opinions opposing its certain conditions by the Muslim Community.
What if the Buddhists want to totally ban any action on animal cruelty according to their religion and Hindus come with their perspectives? In my view, there should be a uniform rule to cater to animal welfare irrespective of opinions of any ethnicity of religion," he said.
Law
"The new law has been drafted but the Ministry should bring it out and in this case it is Ministry of Livestock Development. But it should have ideally come from a law enforcement ministry such as a Ministry under which the Department of Police operate because this is not only a problem relating to livestock," he said.