Child art with a difference
Art, like music is a universal language of communication. More so to children especially those who suffer disabilities that prevent them from leading normal lives.
As the Kala Pola art exhibition held last week at the Vihara Mahadevi Park unfolded hidden talents of young and old, seasoned and newcomers to the world of art as they showcased their versatile talents to the hundreds who packed the fair, one stall in particular won the admiration of those who visited it, if only because it represented Inclusive art which carried a powerful statement.
Wedged unobtrusively in between cartoonists, landscape painters, potters, weavers and many other craftsmen, The Kiddies Corner this year, as in the past four years, showcased 12 paintings - the artistic efforts of 23 young differently-abled children - students from the Dream Centre at Rajagiriya.
Using fingers, hands, toes, blowing bubbles of paint through straws on paper, stripping pieces of tape to make horizontal or vertical lines and wet sponges dipped in coloured nontoxic paint, these 23 children all aged under 15 years from seven years up, many unable to speak, walk, feed and dress by themselves or even sit up in a chair without assistance, had stamped their dreams on sheets of paper.
"These precious works", says the Chairman and Founder of the Dream Centre for Children with Cerebral Palsy, Dr Gopi Kitnasamy, a Chartered Therapist by profession, "will not be discarded. They will be compiled as a deskcalendar. It will be another first for our Centre.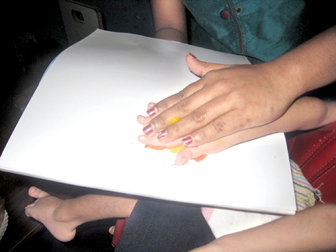 The children were trained and guided by art teacher Priyantha Nandana, one of the seven volunteer teachers the school has."
Efforts
Of their efforts, Dr Kinasamy says, "Their work may not match up to the professional work you see around them. But having seen the tremendous effort these children made to complete their paintings, we see their paintings as a symbol of courage and determination to overcome the most daunting odds".
The theme of the calendar will underline the message he and his team of volunteers are seeking to put across: Inclusiveness. Why 'Inclusiveness?" we ask. "Because it represents a group or team effort - that these children are part of the wider society.
Third
Like other children leading normal lives, they have the right to be treated in the same way and enjoy the same rights of play, education, and healthy living". A large, 2 by 3 foot map of Sri Lanka which is the centrepiece of the exhibits on display in the stall, underscores this theme of Inclusiveness.
Within the outline drawn by a teacher, painted in bright shining colours the 23 artists had proudly placed their hands and fingers to tell the world what their tongues could not declare: "We are One family".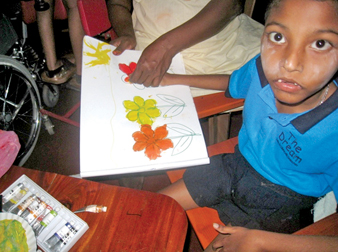 This is the third time the Dream Centre for Cerebral Palsy Children at Rajagiriya has been displaying the work of its students since it held its first exhibition (also at the Kala Pola) in 2012.
He particularly selected the annual Kala Pola as the venue for these annual displays, because it is the most popular place for exhibiting one's creative work at present.Ever since I opened my Dream Centre four years ago, I have found that art had been an important mode of communication and expression for my students, besides helping them to improve their creativity. Observing them at work, my teachers as well as my wife and I who attend the centre regularly since our own son has got this disease, have discovered a reservoir of hidden talent in them. The only way we could encourage them on was by encouraging them to display their efforts at these annual Kala Pola exhibitions".
Replying a question as to why he named his rehabilitation centre Dream Centre, he says, "Because this Centre represents all of our dreams- my wife's and mind, the families of the children who attend this centre and above all the children themselves.
Cerebral palsy, he says is a relatively unknown disease in Sri Lanka." Cerebral Palsy (CP) is the term used for a group of non-progressive disorders of movement and posture caused by abnormal development of, or damage to, motor control centres of the brain.
CP is caused by events before, during, or after birth. It is the most common physical disability in childhood. Despite substantial improvements in obstetric and neonatal care, the worldwide prevalence of cerebral palsy has remained stable at two to three per 1,000 live births for more than 40 years. Cerebral Palsy remains a significant health problem.
The number of people affected by Cerebral Palsy has increased over time. Almost 17 million people around the world have Cerebral Palsy and in Sri Lanka, there are an estimated number of 40,000 children and adults with Cerebral Palsy. There are many undetected cases.
Objective
The cerebral Palsy Lanka Foundation (CPLF) is the first and the only organisation for children with Cerebral Palsy in Sri Lanka. It was started with an objective to provide educational and therapeutic services for children with Cerebral Palsy and associated movement disorders. It was started on October 6, 2011 at 7, Captain Kelum Rajapakse Mawatha, Wattala.
"The Dream" centre is the resource centre of Cerebral Palsy Lanka Foundation (CPLF) started with the aim to provide special education and therapy (Physio, Speech and Occupational) for the children with Cerebral Palsy in Sri Lanka. At present, we have two centres, one in Wattala and other in Moratuwa and we'll soon start the third at Nugegoda area.
The mission of CPLF is to start at least one such centre in every district of Sri Lanka to help these children in their localities.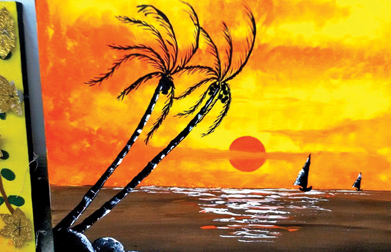 "This year, it was the 22nd Anniversary of Kala Pola which is Sri Lanka's highly popular open-air art exhibition cum fair. Thanks to the George Keyt Foundation and John Keells Foundation for helping these wonderful artists in Sri Lanka by organising this great event.
We are very grateful that on the request of Cerebral Palsy Lanka Foundation (CPLF), they gave this wonderful opportunity to exhibit the artwork done by children with Cerebral Palsy from The Dream Centre for children with Cerebral Palsy", Dr Kitnasamy says.
Inclusiveness
The children exhibited 12 paintings with the theme "Inclusiveness". These paintings are the result of group work by the 23 students at The Dream Centre with the help of the teachers and the guidance of artist Priyantha Nandana.
As most of these children cannot hold a paint brush in their hands and can't co-ordinate their movements, these paintings were done using their fingers and palm, with sponges, tapes, gloves and blowing through straw and splashing the paint.
We will be making a desk calendar with these paintings. The main objective behind this noble initiative is to encourage their active participation and integration into the community which will pave the way towards "Inclusiveness".