Spending a holiday dangling 9,000 feet in midair
How would you like to spend a holiday dangling over 9,000 feet in midair?
It is a cable car transformed into a luxurious one bed room, two-bed apartment near the top of Mount Sommet de la Saulire, in the French Alps. It can accommodate up to four guests.The setting is a part of the popular lodging websiteAirbob's 'A Night At' contest, which awards users 24-hour getaways at such exclusive locations.
Winners of the contest will be taken up to the mountain on snowmobiles and after a special Savoyard dinner under the stars, the guests will get to spend the night, quite literally, in the middle of nowhere. Because of the strong winds in the mountainous region, the one-bedroom, two-bed apartment will apparently be teetering all night long causing you to either freak out or get a better night's sleep. Whatever the case, at least you will be waking up to a spectacular alpine view.
For a chance to spend a 'Night at 9,000ft in the air', all you need to do is enter Airbnb's giveaway and explain in 100 words why you deserve to win. Adventurous travellers have until February 25 to enter, and the four winners will be announced on March 6.
The luxurious cable car is part of Airbnb's "amazing places to rent" giveaway, with previous locations including a commercial jet and an IKEA store.
---
Inmates staff prison restaurant
If you happen to be in Cardiff, Wales don't forget to have a sumptuous meal at The Clink. It has been voted as the number one restaurant in the area because it more votes than all the other 945 restaurants in Cardiff.
The Clink is a unique reataurant because it is staffed by inmates at HMP Cardiff, a category B men's prison.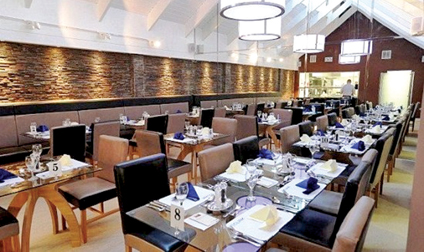 Approximately 30 prisoners work a 40-hour week at The Clink, either in the kitchen or waiting tables, before returning to their cells at the end of each day. The restaurant also employs a team of trainers who work closely with the prisoners to come up with seasonal dishes made from locally sourced fresh ingredients. Some of the typical menu options include 'venison and wild boar ragout with game sausage, chargrilled polenta and seasonal vegetables' and 'a celebration of rhubarb'.
It provides employment for the inmates and are paid 14 pounds a week and also a big reward of a valuable opportunity to turn their life around.
The Clink, which opened in September 2012, is a 96-seat restaurant that serves breakfast and lunch. It has received rave reviews from most of the users on the hugely popular travel website TripAdvisor, mostly for their 'friendly and informative staff'. "The standard set by everyone at this venue would be hard to match in any other restaurant we have been to in recent times," a happy diner wrote.
"The waiters were great wit perfect service - better than we have had in some star restaurants - and also attentive to your needs," another said.
"The whole team is delighted to have made it to the top spot on TripAdvisor, and to be ranked so highly against almost 1,000 restaurants in the city is a huge achievement for us," said general manager Jason Lawrence. "The recognition we have received from so many of the diners for the atmosphere we've created, the effort we put into sourcing our ingredients, the high standard of front of house service offered by the waiters is incredible."
---
Four tons of meat can be cooked in world's largest barbecue
It is a 40-ton, 75 foot monstrous barbecue pit that can cook four tonnes of meat at a time.
Ventilated by seven chimneys this world's largest barbeque named "UndiputableCuz" is located at the Folsom residence along highway 290, in Brenham Texas.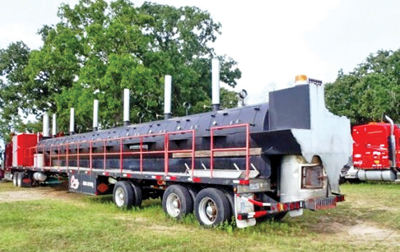 It is so huge that it needs to be carried around in a large truck and special permits should be issued to just move this massive cooker down the road.
Terry Folsom,the proud owner of this monstrosity describing his prized possession said: "It has 24 doors -12 on this side and 12 on the other."
The pit can cook four tons of meat at a time, and also has a walk-in cooler with space for kegs attached to beer taps on the outside. Surprisingly, the heat that powers the beauty comes from a small fire that burns only a couple of cords of wood. A tube carries the heat along the length of the entire pit.
Fosom acquired the Undisputable Cuz as a part of a business deal with its original owner, who used to take it on tour.
But while his son loves to cook on it, his wife would like to get rid of it pretty soon, so it's up for sale on eBay for a whopping $350,000. And the price doesn't cover the low-mileage 18-speed Peterbilt that houses the pit. The vehicle will set you back by an additional $50,000.
Some people tell me we ought to put it back on tour," said Kim Folsom, Terry's wife. "But I'd rather just sell it and get it gone."