Japan-Lanka trade growth to continue
Sri Lanka's trade with Japan has grown during the past two years from over a decade of fluctuation.
Trade between the two countries rose from around US$ 894 million in 2013 to US $1,167 million last year. Trade between the two countries stood at US$ 770 million in 2012.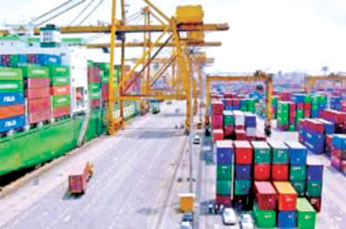 Japan-Sri Lanka trade has been increasing with a few hiccups during the financial crisis in 2008 and in the years that followed. Trade between the two countries rose from US$ 556 million in 2004 to US$ 1,249 million in 2011 and then slid to US$ 770 million in the following year.Trade analysts said that the growth trend will continue given the close ties between the two countries and their interest to break barriers and explore new opportunities.
Trade between the two countries increased last year compared to the previous year, said a spokesman for the Department of Commerce, which he said is yet to receive the official trade statistics for 2014. Sri Lanka's exports to Japan increased from US$ 215 million in 2012 to US$ 224 million in 2013 and imports rose from US$ 554 million to 670 million. The balance of trade has always been in favour of Japan due to the high-value vehicle imports from Japan.
Exports to Japan which dropped by four percent from 2011 to 2012 increased by four percent in 2013. Tea which is Sri Lanka's main export item to Japan accounted for around 21 percent of total exports to Japan in 2013.Other items exported to Japan include fish, fresh or chilled and shrimps and prawns, raw bristle fibre, precious and semi-precious stones, natural rubber, machines parts and accessories, brooms, brushes, tyres, vegetables, fruit and nuts.
Vehicle imports accounted for over 45 percent of imports from Japan.
Other imports from Japan are electrical machinery, self-propelled bulldozers, iron or steel, parts and accessories of motor vehicles.
Japan is keen to expand trade with Sri Lanka by exploring new opportunities, JETRO Resident Representative to Sri Lanka Kazuhiko Obama said.
He said that many Japanese companies are keen to visit Sri Lanka and set up business especially after Prime Minister, Shinzo Abe visit to Sri Lanka last year. Japanese companies consider Sri Lanka as the gateway to India, Middle East and Africa.
Lack of correct information on the business environment in Sri Lanka is a major hurdle for Japan to increase trade with Sri Lanka.
More Japanese companies should visit Sri Lanka and explore business opportunities, Obama said.
He said Sri Lanka should show its comparative economic data with ASEAN countries to convince Japanese corporates.
Many Japanese companies view business opportunities in Sri Lankan comparing it with ASEAN countries.
"Sri Lanka needs to improve its skilled labour force with more engineers and business managers. There should be a consistent industrial policy in the country. Agriculture is a promising sector where both countries could mutually benefit by supporting each other in the areas of material, machinery and soil research," Obama said.
Sri Lanka has huge potential to boost trade with Japan. Japanese companies are keen to set up operations in Sri Lanka.
The number of visitors making inquires from JETRO is increasing.
Lack of awareness has hindered growth in trade and investments.
A Japanese fertiliser company Nipponchiko set up operations in Kurunegala recently, the JETRO Resident Representative said.
Japan has a large outsourcing market which Sri Lanka should explore and develop.
The workforce in Sri Lanka's IT industry is growing. Around 50,000 jobs have been created in Colombo.
A business match-making seminar will be held in Japan in October this year, a JETRO official said.
He said Japan has identified Sri Lanka as a partner destination for IT trade. Most Japanese businesses are linked to South Asia.
Japan-Sri Lanka diplomatic relations was established in 1952 and 60 years of relations was marked in 2012. Japan is one of Sri Lanka's major donors and a key trading partner.
Its GDP last year was JPY 488.6 trillion. - LF