'Port City should not undermine environment'
The Port City project is good for the economy but its implications on the environment must be looked into, said Central Environment Authority (CEA) Chairman Prof. Lal Mervin Dharmasiri at the launch of the Ceylon National Chamber of Industries (CNCI) Achiever Awards which will be held on September 3 in Colombo.
He said that the CEA and the Coastal Conservation Authority have a role to play in the study of the project.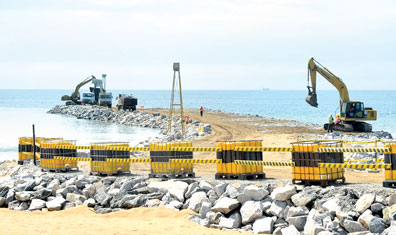 The Colombo Port City project was launched under the previous regime during the latter part of last year through which the then government expected to give a boost to the economy disregarding the implications on the environment.
The Port City project was staunchly opposed by environmentalists and fishery sector organisations for its adverse impact on marine resources, coastal conservation and the livelihood of the fisher community.
Environmentalists, civil society organsations and religious leaders took to the streets recently calling for a halt to the project which is allegedly detrimental to the environment and livelihood of a large number of fisher-folk.
They called upon the government to carry out a thorough investigation on the project and not to ignore the implications to the environment. Work on the project was brought to a halt with a committee being set up by the government to investigate the project.
Port sector experts said that the government will lose a staggering amount of money each day as a result of the stoppage of work.
The former Government embarked on this massive project hoping to give a boost to the economy ignoring the repercussions on the environment.
The Movement Against the Port City pinned the blame on former President Mahinda Rajapaksa for acting in a dictatorial manner without consulting the people.
Meanwhile the business community has cautioned on the adverse implications on Foreign Direct Investments and relations with China, the undertaker of the project.
Several businessmen said that if the project is stalled it will send negative signals about the country to foreign investors. "President Maithripala Sirisena will hold discussions with the CEA to look into its progress and discuss issues pertaining to the project," Prof. Dharmasiri said. -LF