Building your personal brand. Element No. 5: Performance:
Input will equal output
[Continued from last week]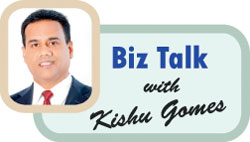 Over the past five weeks we talked about principles of personal branding and under which first three elements, Product 'You', Packaging, Communication and Positioning. Today it's about performance.
Branding is best defined as a promise of the value of the product - a promise that the product is better than all the competing products – so your brand has to deliver the promise through performance – after all the single measure for brand success is delivery of performance.
If you claim you are better than your competition you have to deliver better results as proof of performance. Look at the powerful personal brands. They have delivered extraordinary performance. They are admired and respected brands because they have produced results.
Be it in the field of business, sports or art. Successful personal brands have common traits such as creativity, innovation, determination, word work, passion, speed and drive for results. They can be radical, dominating, persuasive, aggressive and challenging at times.
They are certainly outgoing personalities with an element of surprise. How can you be one like that if you are already not?
Luck
Most successful people in this world started from the bottom and worked their way up in life. The only time luck plays a role is when you are in the right place at the right time, but it's up to you to get yourself there and then.
Achieving superior performance is all about how badly you want it and how much you're willing to work for it. You know the basic science of life. Your input will equal your output. Successful people don't depend on luck to get them anywhere; they depend on skills and ambition to get them to where they want.
They know that knowledge is the backbone of success and they are hungry for more knowledge.They go around asking, "Why not?" They see new possibilities and opportunities where others see problems.
Even in times of stress or turmoil, high performers keep their balance. They breathe easy, ask the right questions and make sound decisions, even in a crisis. Successful brands love challenges. They understand that if it were easy, anyone can do it so the win is not noticed. Their goal is to be the best always and to be on top because that is where their ambition and passion lies.
Improve performance at work by continually upgrading your work-related skills and make sure that your superiors know about it. You must be seen repeatedly and consistently performing better than your peers.
What it takes
Quality and continuous improvement of your performance, speed of delivery and performance under testing conditions are fundamental to differentiate your performance. Consciously identify the behaviour that ensured the best results and train yourself to perform at your peak and after a while you will see an elevated level of average performance.
Look at the opportunities to make a contribution outside your core area for greater value delivery. Performance comes from the mastery of a core set of skills that can be applied to any position, field or company. When you practise and strengthen these skills in your work, you'll rise to the top.
Can you see the big picture and break it down into small, manageable and action-oriented steps? Then you have undeniable value.
High performers
You should know what your goals are and how you will achieve them. Setting very high expectations is the first step forward. Your goal should be higher than your competition if you want higher performance.
If the goals were easy, everyone who wanted it would have it – it's relative elusiveness is what makes it special. Acquire and develop an entrepreneurial drive. Apply it to the workplace.
As a creative self-starter, you should take calculated risks, brainstorm new ideas and execute with precision. To really stand out, you should always try to improve, individually and company-wide. It's exclusive to a handful of people who did extraordinary things in their lives to get them to where they are today. Do you have what it takes to get there?
Next week I will talk about the sixth element - 'sustaining your personal brand'.