New BOI incentives:
Call for 'wait-and-see' approach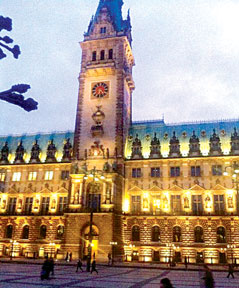 German Ambassador Dr. Juergen Morhard said that there were opportunities for business in Sri Lanka and that he was cautiously optimistic about new incentives being introduced by the Board of Investment.
He was speaking at the yearly East Asian Business Conference organised by the German Asia-Pacific Business Association (OAV) in Hamburg recently.
He called for a 'wait-and-see' approach, while reiterating that the Sri Lankan economy is growing and has a great potential.
He invited German businesses to come and see for themselves as soon as possible.
The event was aimed at promoting closer ties between businesses in the two regions and presented a networking opportunity that attracted hundreds of high-level decision-makers.
The OAV focuses on the promotion of bilateral economic relationships between Germany and the Asia-Pacific region. The OAV facilitates business interests of German companies through its corporate and institutional network.
Besides its strong corporate network, the OAV cultivates close contacts with relevant institutions in Germany and the Asia-Pacific, such as the German Chambers of Commerce network and embassies abroad.