Apple's iPhone and Smartphone win honours
Apple's iPhone 6 and LG's G3 Smartphone shared an award for Best Smartphone of 2015 at the GSMA Mobile World Congress, which was held recently in Barcelona.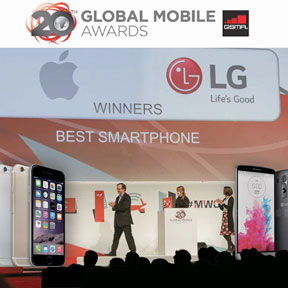 This is the 20th year the awards have been presented by the Groupe Speciale Mobile Association, or GSMA, an international organisation of companies involved in mobile telecommunications.
Thirty-six awards were given in six categories: Connected Life, Mobile Services, Social and Economic Development, Apps, Mobile Handsets and Devices and Mobile Technology.
In awarding a tie to the Apple iPhone 6 and the LG G3 for Best Smartphone of the Year, the judges called Apple's device an "unmatched consumer success," while lauding LG for an edge-to-edge screen that "offers the best quality mobile viewing experience around today."
The launch of the iPhone 6 and iPhone 6 Plus in September broke sales records, helping Apple to achieve 93 percent of the global smartphone market in the fourth quarter of 2014.
On the Smartwatches, the LG Watch Urbane and LG Watch Urbane LTE were named the best smartwatches of this year's show by a number of prominent technology media outlets. The LG Watch Urbane was chosen by Android Authority, Android Central, PC Pro and Ubergizmo for its classical and cosmopolitan design with analogue flavour. The world's first LTE smartwatch, LG Watch Urbane LTE, received best-of-show recognition from Android Central, AndroidPIT, Digital Trends, Expert Reviews and TechnoBuffalo.
It was recognised by a number of the awardees for being the first smartwatch to include an NFC based payment feature and the most powerful battery in the industry.
Abans PLC is the authorised reseller and service provider for Apple and the sole agent for LG Smartphones in Sri Lanka.