The pursuit of happiness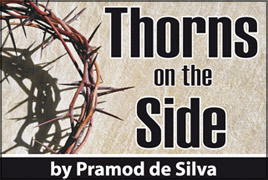 'Be happy with what you have and are, be generous with both, and you won't have to hunt for happiness.'
This famous saying by William Gladstone explains what happiness is all about. It is a state of mind, where you feel contented with what life has in store for you. If you dwell too much on the past or become sad over life's difficult moments, happiness will leave you. It is one of the few things in life that is worth having in abundance.
Happiness as a concept has become so important in our highly commercialised and money-oriented world that the UN has decided to have a separate day to celebrate happiness. The International Day of Happiness which fell on Thursday recognises the relevance of happiness and well-being as universal goals and aspirations in the lives of human beings around the world and the importance of their recognition in public policy objectives.
Parity
Speaking at the UN recently, Secretary General Ban Ki-moon said that the world "needs a new economic paradigm that recognises the parity between the three pillars of sustainable development. Social, economic and environmental well-being are indivisible. Together they define gross global happiness."
There is a famous saying that money cannot buy happiness. One South A sian country went beyond this and adopted happiness as an indicator of good life to replace concepts such as Gross National Product. Bhutan recognised the supremacy of national happiness over national income since the early 1970s and famously adopted the goal of Gross National Happiness over Gross National Product.
The General Assembly of the United Nations in 2012 proclaimed March 20 as the International Day of Happiness. The U.N. General Assembly established International Day of Happiness to acknowledge that "the pursuit of happiness is a fundamental human goal" and to recognise "the need for a more inclusive, equitable and balanced approach to economic growth that promotes sustainable development, poverty eradication, happiness and the well-being of all peoples," according to the resolution.
Future
This is a very important development, given that the twin concepts of happiness and well-being increasingly feature in international discussions on sustainable development and mankind's future. Many countries are incorporating practical measures to promote these concepts in their legislation and policy-making. These good practices can inspire other countries so that measuring and accounting for broader well-being, and not simply national income, becomes a universal practice.
One can feel happy at an individual level, but what is more important is feeling happy collectively, as a country and even as a world. For example, the people felt happy when the war ended in 2009. They will be happier when Sri Lanka achieves complete reconciliation. Happiness may have different meanings for different people. But in today's complex world, happiness can also mean working to end conflict, poverty and other unfortunate conditions in which so many of our fellow human beings live.
As the UN noted, happiness is neither a frivolity nor a luxury. It is a deep-seated yearning shared by all members of the human family. It should be denied to no-one and available to all. This encompasses concepts such as peace, justice, human rights, social progress and improved standards of life. To put it simply, the pursuit of happiness is a fundamental human goal.
Foundation
What exactly is the foundation for happiness on a global level? The world must take international and national action to eradicate poverty, promote social inclusion and inter-cultural harmony, ensure decent livelihoods, protect the environment and build institutions for good governance. These are the foundations for human happiness and well-being. We are heartened by the efforts being taken by the current administration to establish and foster these qualities here.
Happiness is a distant and elusive goal for millions of people around the world who are mired in poverty, disease, human rights abuses including domestic violence, human trafficking, humanitarian crises, armed conflicts and the effects of environmental degradation and climate change. Governments around the world should step in and uplift their lives so that they could experience a bit of happiness.
But at an individual level, what can one do to become happy? Unsurprisingly, one of the best ways to become happy is to make others happy. And you do not even need to spend a single cent to do so. Even a simple act will suffice. If you help an elderly man cross the road, he will be happy. That act of kindness will help radiate happiness in your mind.
Infectious
One cannot chase happiness per se. It is better to be happy about the satiations you are in rather than deliberately trying to 'create' happiness artificially. The general advice is 'be happy about who you are'. Having a sense of humour certainly helps in this regard. If you don't have a sense of humour about life itself, you can't be happy, period. It is the best way to deal with pain or unfairness. Laughing, even to yourself, feels good physically - it's a relief and gives a bolt of energy.
But happiness usually cannot be experienced alone - it is best to share your happy moments. After all, if you cry, no one will cry with you. But if you laugh, others will join in. Happiness is indeed infectious.
Make it a habit to set aside time to do something you know makes you happy.
It can be listening to music, photography, watching movies or shopping (they didn't call it retail therapy for nothing), but it is worth pursuing the things that can make you happy. For many people, being together with their loved ones for a few hours every day is very uplifting. Meditation is another way to be calm and happy. There are many paths to happiness and its worth treading on them all.
"Happiness cannot be travelled to, owned, earned, worn or consumed. Happiness is the spiritual experience of living every minute with love, grace, and gratitude." (Denis Waitley)