The story of the ever-popular:
Sesame Street characters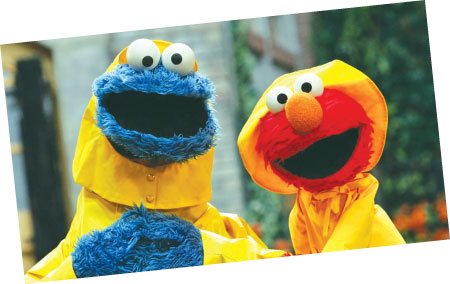 Like a lot of people, many of us grew up with Sesame Street and the Muppets. But did you ever stop to wonder where they came from? Many Muppets came from humble origins; Kermit once was made of a coat and ping-pong balls Some of the characters we know and love were recycled from other TV shows and commercials Jim Henson worked on, while others were invented by using whatever materials were around. Be prepared for a little nostalgia.
Cookie Monster: Jim Henson drew some monsters eating various snacks for a General Foods commercial in1966.
The commercial was never used, but Henson recycled one of the monsters (the "Wheel-Stealer") for an IBM training video in 1967 and again for a Fritos commercial in 1969.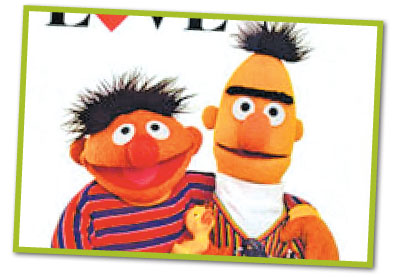 By that time, he had started working on Sesame Street anddecided this monster would have a home there. Elmo: The way it's described by a Sesame Street writer, apparently this extra red puppet was just lying around. People would try to do something with him, but nothing really panned out. In 1984, puppeteer Kevin Clash picked up the red puppet and started doing the voice and the personality and it clicked -- thus, Elmo was born. Kermit was "born" in1955 and first showed up on "Sam and Friends," a five-minute puppet show by Jim Henson.
The first Kermit was made out of Henson's mom's coat and some ping pong balls. At the time, he was more lizard-like than frog-like. By the time he showed up on Sesame Street in 1969, though, he had made the transition to frog.
There are rumours that he got the name Kermit from a childhood friend of Henson's or a puppeteer from the early days of the Muppets, but Henson always refuted both of those rumours.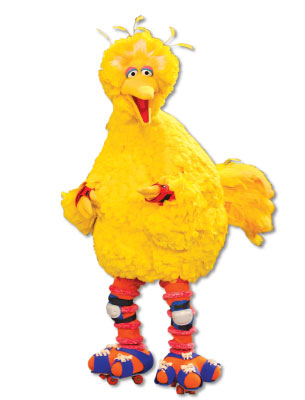 Miss Piggy is apparently from Iowa. She started as a minor character on "The Muppet Show," but anyone who knows Miss Piggy can see that she wouldn't settle for anything "minor." Her first TV appearance was actually on an Herb Alpert special. It wasn't until 1976, when"The Muppet Show" premiered, that she became the glamorous blonde with a penchant for frog that we know and love today. Frank Oz once said that Miss Piggy grew up in Iowa;her dad died when she was young and her mother was mean. She had to enter beauty contests to make money.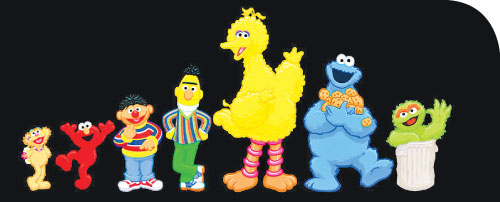 Fozzie Bear. Poor Fozzie. He's the perpetual target of Statler and Waldorf because of his horrible jokes and puns. It actually created a bit of a problem during the first season of The Muppet Show, because when Fozzie got heckled, he got very upset and sometimes cried. Viewers didn't feel sympathy;they felt embarrassed. The problem was solved by making Fozzie an optimist so that even when he got heckled he was good-natured about it. It's often thought that he was named after Frank Oz, who was his puppeteer, but Frank said it's just a variant of "fuzzy bear." Yet another story says he was namedfor his builder, Faz Fazakas. Wocka wocka!!
Bert and Ernie are the Muppet version of Felix and Oscar ("The Odd Couple," for you young'uns).Lots of people think Bert and Ernie were named for some minor characters in 'It's A Wonderful Life', but according to the Henson company, that's just a rumour. Jim Henson always maintained that it was just a coincidence -- the names just went well together and seemed to fit the characters. Jerry Juhl, one of the head writers, corroborated this and said that Jim Henson had no memory for details like that and would have never remembered the name of the cop and the taxi cab driver in the old Jimmy Stewart movie.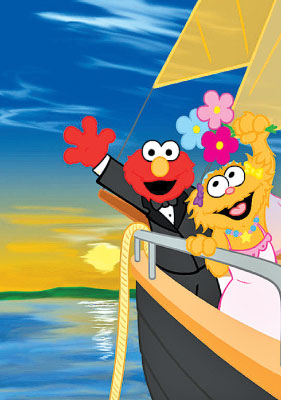 Other rumours to clear up: The original Ernie used to have a gravelly voice similar to Rowlf the Dog's. Frank Oz was Bert's puppeteer and hated him at the beginning.
He thought Bert was ridiculously boring, but then realised that he could have a lot of fun with being boring. Jim Henson once said, "I remember trying Bert and Frank tried Ernie for a while. I can't imagine doing Bert now, because Bert has become so much of a part of Frank.
- Internet