Short story
An almost perfect holiday
An almost perfect holiday
"Observe the fasten seat belt sign .. tray tables. Flight attendants ...ready for landing .... Welcome to ....We hope you.... thank you for flying .... again next time."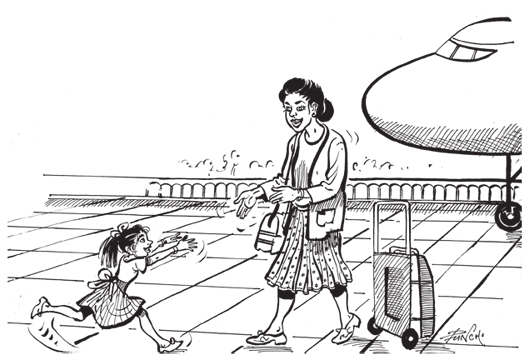 Words repeated for people who are not listening!
She covered her eyes and ears. The aircraft was going down hundreds of metres every minute. In seconds came the turbulent bump which indicated the wheels had made contact with the ground.
"At last..."
Waiting for her arrival was her daughter. She came running to her mother's outstretched arms and whispered, "Amma you came1"
There was an unbelievable silence. It took several seconds for her to realise where she was. The clock on the bedtime table indicated that it was 8.30. She stretched her limbs, but felt lazy to get up. The night temperature had been five degrees Celcius, about 20 degrees less from what she is used to all her life. Covered by a blanket and over it a quilt, she has had eight hours of sound sleep. Now she should get off as if coming out of a warm cocoon. The room was small; the walls in salmon pink, her favourite shade of pink. On the wall right opposite her bed was a plaque, with the words" The World's Best Mother." The question "Can I be described in such terms?" arose in her mind.
She sipped the aromatic coffee, from the outsize mug with "The World's Best Mother" painted on it. With a smile on her face at the commercialisation of a daughter's affection, she savoured the taste of one of the best brands of coffee which was a beverage she loved. She was enjoying "one of the good things in life".
Bright morning
She drew the two layers of curtains aside. It was a bright morning. The eucalyptus trees, a few metres from the window stood tall and erect. Beyond the park was a main road and beyond that, houses. Cars that were parked in front of the houses last evening were not there. She guessed that the occupants had left for work. No one was seen walking in the park or on the road except a woman with a dog at her heels. She wore a pair of short black jeans and a white jacket. Her steps were steady though she had a slight stoop. The dog had to run behind her.
"I too must go for a walk, just to please Anuradha."
"Amma the weather tomorrow is going to be sunny with the temperature 25 degrees. You can take a long walk," Anuradha had said last night.
She opened the back door to hang the wet clothes. The yard was extensive; larger than the area the house covered. The ubiquitous clothes line, like a merry-go-round was swaying in slow circles with the family's washing. The barbeque hearth was waiting to be cleaned from last night's use.
'No sign of a human being. These houses, are they vacant?'
'No, they can't be. The clothe-lines are full of clothes.' That was the most obvious answer, she could give herself.
Several parrots were at the far end of the yard. They made a medley of colour foraging for food in the tufts of grass. An easily recognisable bird flew down. It was entirely white with a sulphur – yellow, forward-facing crest. Under its wings and tail was a yellow wash. 'I most find out the names of these creatures as well as those trees which give out an old – world type of scent' she thought.
Toy plane
The air was clean sans dust or smoke. She took a deep breath. The muffled sound of a jet made her look up. It looked like a toy plane, with silver wings moving across the azure-blue sky. The path it had taken was marked by a long white line stretching from its tail. 'There should be human beings up there at least!' she told herself.
"When you go out, you should take a jacket. The weather here is unpredictable."
Ravi, her son-in-law had warned her.
So she set out well armed for any kind of weather and a map of the area. The pedestrian walk stretched as far as the eye could see. On either side, parallel to it ran the bicycle-lane and the road. There were no garbage heaps to be avoided.
The men and women who strolled with their dogs were careful to give way to others; they each carried a polythene bag; if the need arose to collect the droppings! Drivers patiently waited for the green lights.
She admired the discipline of the road users and tried to push away the mayhem seen back at home.
As time passed, she began to enjoy the daily walks looking at the well-kept gardens in front of the houses. Marigolds, chrysanthemums, dahlias and roses of all imaginable hues presented a riot of colour. Neatly kept hedges, not concrete walls, separated the gardens. A few, of course, bore evidence of neglect; or locked doors and windows indicated that the occupants were away.
During the week-ends she accompanied her daughter and son-in-law on their shopping or marketing sprees. At such times she observed the gaiety of the people of all ages. Parents with new-born infants, mothers with two babies in a twin pram with another toddler trailing behind, pairs of young-old elders and also old-old elders holding hands, cliques of teenagers moving in gay abandon were either window-shopping or really buying goods or eating and drinking in the "food courts'.
Consumerism
Here is consumerism in its extreme form' she thought watching the people push loaded trolleys towards their vehicles. It was a totally different scene from what she was accustomed to see, where the multitude lived in want. 'So this is why people clamour to come here.' She tried to reason out. Her own daughter had come with her family. Now she understood. At first she did not know why Anuradha took the decision in spite of her having a job, with a five figure salary and an official vehicle.
"Amma, you are so quiet. What are you thinking about?"
"Are you comparing the lifestyles of people here and over there?" Ravi asked.
"Yes, the way they work and the way they enjoy life. Most of the people whom I have met, are doing two jobs. Don't they feel tired at the end of the day?"
"They do. Working up to the maximum possible, earning much more than they did back home, relaxing and enjoying as if they do not have a care in the world, living in a clean and disciplined environment... what more can you expect?"
She nodded
The weekends were welcomed by all. At such get-togethers she met a cross-section of Sri Lankans who were either waiting to be accepted as "Permanent Residents" or had already got citizenship. Several young boys and girls who had come for their studies mixed with the adults, their "aunties and uncles" who had their welfare in mind. They did part-time jobs. Their parents had spent unbelievably large sums of money to send them across and pay for their studies. Now most of them engaged themselves to get dollars for their daily living.
"So how do you do both, attending lectures and getting work to fit into your schedule?" I asked. Each one explained.
"I work at a filling station, six days a week, from 9 p.m. To 6 a.m."

"That means you don't get any sleep for six days."
"No. I sleep during the day, when I don't have lectures. Sometimes I oversleep and then miss lectures."
Prime importance
"That's really bad. Your studies are of prime importance." I felt sorry for the parents who had even sold their properties to send him here.
"I can get the notes from a pal or from the internet."

"You are lucky. The internet is there for your rescue."

"Oh! Yes. It's our saviour, teacher and a companion."

Another young man quipped in. "Shall I tell you where I work?"

"Please do Putha. I'm learning a lot from you, young folk."
"I work at the cemetery." He would have been disappointed to see my expressionless face.
"How interesting! Tell me what you do there."

"It's better if you can come with me one day. I'll show you around."
So Nisal came on one of his off days to take me. My daughter was in the garden attending to the plants.
"Where are you going?" she asked.

"I'm going with Nisal to see the Nisal Arana."
"Oh! You will see how different it is from the one there."

On the way Nisal asked me what was bothering him all this time.
"What did you say about an "Arana"?

It is the name of a cemetery in our area."

"Now I understand."

Tourist guide
Nisal acted as a tourist guide driving me pass the groves, tree-lined wide roads, burial-places of various ethnic communities and of the members of the armed forces who had lost their lives in the world wars.
The small plaques with the names of the dead, their ranks, the date and place they met with their deaths were engraved and shone in the morning sunlight. I read some of them. The names of members of the forces who had made the supreme sacrifice indicated they had originated in various parts of the world. It was a silent reminder of the multi-cultural characteristic of the country.
As we drove through the grounds Nisal pointed out the burial grounds of adherents of various religions. Here there was land in plenty making it possible to meet the needs of people who had found a home away from home. That morning there was a crowd gathered in the Christian section awaiting the service to start in the chapel. Further away a large number of Chinese was performing the last rites for a departed relative or friend.
One day she got a call from one of her friends. She had called at least once to her close friends. The familiar voice said "When are you coming back? We are all waiting for your return. We miss you a lot."
"I miss you to., our picnics and trips."
"Really? But you are seeing exotic places and you have many things to see and enjoy."
"In a way, yes. But the trips with our group, are enjoyable in other ways."
"Yes. We go in search of places that are so very ancient. How interesting they are! We forget our disabilities, acting like a group of adolescents!"
"That's why we enjoy being together. Malini we have visited many of those places. I wonder whether there are any more."
"Rohini has found some information about places we have not seen before. So we are waiting for you to come.
"Ok. I'll be coming soon. Give my regards to the others. Bye."
She wound up though she would have liked to have a long chat with Malini; she knew the cost it entailed.
With the onset of winter, days were getting chilly.
The night temperatures too started dipping. She stopped going for walks. Wrapped in warm clothing, she spent tome indoors, either reading or cross-stitching.
Fresh air
The question 'How long am I going to be here?' was starting to prick her mind, when she could not enjoy the early morning walks on deserted walkaways breathing fresh air and looking at the flower-filled gardens.
Now the aura of a quiet house, with plenty of food on the table, with the whole day stretching ahead to be spent in myriad of activities that she had wanted, but could not do so far, was fading away.
One night, at dinner she asked, "Ravi would you be able to get an earlier date for my return flight?"
Ravi and Anuradha voiced the question in amazement, "Why?"
"Just. I feel like going back."
"But why/ Has anything gone wrong Amma?" asked Anuradha in a shaky voice.
"Nothing of the sort. I enjoyed being here, being with you. You gave me a fine time; showered me with live and attention. I got the taste of a real holiday for the first time in my life."
"The why do you want to cut short your stay?"

"For reasons of my own."

"You came to stay for three months. Only two months are over."

"Please try to understand."
After dinner, she went out to the garden to watch the moon rise. The sky was cloudless.
The moon appeared to be larger in these southern latitudes as it drifted over the pines and eucalyptus. Orion was spread over the clear sky, dominating the other constellations.
'I shall miss looking at the beauty of the night sky when I get back.

Yet, in a few days I'll be home.'

The flight was soaring up thousands of metres.
As she glanced through the window, she saw below the highways of the city lighted with thousands of lights; miniature cars travelling in every direction. She realised that Anuradha and Ravi must be in one of those cars getting back home.
She could not control the sudden gush of emotion that enveloped her whole being. With the words of her daughter "Safe journey Amma" murmuring in her ears, she closed her eyes hoping that blessed sleep would take her to oblivion.