Evergreen's scintillating sounds
The heady 'Malguena' vibes of Trio Los Paraguayos made an irresistible impact on the global music scene that was open to disco power and potent soul. Playing guitar, bongo drums and harp the Trio tore down a few veils of existing conventionalism and were successful in getting the Malaguena rhythms into the global spotlight. The result-the sounds became a rage!
Here in Sri Lanka, the influence of this music saw the birth of the bands Ernest and the Evergreen, Los Cabelleros led by Errol Fernando, La Ceylonians with Noel Ranasinghe, Sri Lankians with Sarath Samarawickrema as leader and another young group calling themselves Bentota Bees led by Leslie Fernando.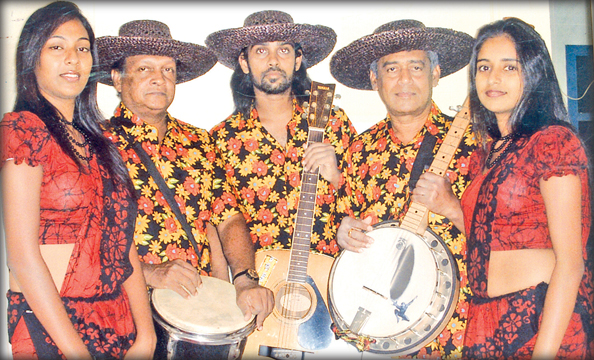 The popularity of these groups escalated thanks to the national radio SLBC, who extended regular invitations to the groups to perform live for the pleasure of the listeners.
Ernest and the Evergreen Band have been on the scene since 1979 and the members are happy that they are the longest playing group among their peers. Noel Ranasinghe is not in good health and so the La Ceylonians are out of the spotlight.
The Sri Lankians however do perform but mostly out of the island. At the recent Kuwait National Day celebration, the group Ernest and the Evergreens were the guest musicians much to the enjoyment of the distinguished invitees. This was as Ernest proudly claims the band's fourth contract to play at the National Day celebrations.
Question: According to many reports your group was born in 1979 and with Lady Luck smiling down on you, the band played many dates in India, Germany, Bombay, Italy - the places read like names on a passport. Briefly can you tell us the background history?
Answer: I have to take you through from 1979 to 2009. It's unbelievable but we were performing on stages out of Sri Lanka. Our first was in Germany. This was in 1985 when we performed in Hamburg, Frankfort, Dusseldorf and Liverkusen and we were amazed at the appreciation we received.
From Germany we had to head to Bombay to perform at the Taj Mahal Intercontinental. We had a stay of two years and then it was a case of coming home and getting ready to go to places such as Malaysia, Italy, Yugoslavia, Doha, Bangalore, Calcutta, Maldives, Hyderabad, Dubai. We were really fortunate.
Q: I'm just curious because you have to admit that there is a certain amount of animosity among musicians when it comes to a foreign contract. Did you have to face any unpleasantness?
A: Strangely no. We didn't have to face such unpleasantness even though we were minority musicians - meaning we didn't compete with the bands that were playing for dances. We were an acoustic band and not in the pop, rock, disco electronic medium; so we were not hassled too much.
Q: Your repertoire during your foreign contracts, did it include Sinhala songs apart from the Spanish and Paraguayan songs?
A: Yes we sang the songs of Sunil Santha, Mohideen Baig, Amaradeva, M.S. Fernando, Milton Mallawarachchi, Jothipala, Milton Perera and Priya Suriyasena. Of course songs such as Besame Mucho, O Sole Mio, Isle of Capri, South of the Border, Mussaden and all the old favourites were our favourites and we reached out to our audience with the Paraguayan rhythms which was captivating. We have a wide repertoire of Hindi songs.
Because we were an acoustic band we moved amidst the tables while performing which was intimate and appreciated. We have many letters from guests appreciating our music and we are wondering whether we should try our luck again singing abroad!
Q: Quite naturally the personnel of your band Evergreen would have seen changes over the passage of time, if as you say that Evergreen started in 1979?
A: Yes. The band was started by my father Andrew Leslie Fernando. He was a pianist and strangely I took to the guitar.
The leader of Evergreen was Ranjith Fernando and I played with the band until 1985. In 1985, I left Sri Lanka to play for a contract in Switzerland. From 1979 - 1985 the band was called Los Valdemosa.
On my return we changed the name of our band to Ernest and the Evergreen Band.
Q: Who are the personnel now?
A: Well, there's me Ernest on banjo and vocals, Tyronne Ramanathan playing conga drums, Aelian Tillekeratne - rhythm guitar and vocals, and my daughter Randima on vocals. Tyronne has been playing with me for the past 35 years and that's a record for us. The combination is good and I hope to record and release a CD containing our favourites for posterity.
Q: Now in Sri Lanka with no definite plans to play abroad, where are you performing for the benefit of music lovers who enjoy the exciting vibes of your music.
A: We play on Saturdays and Sundays at the Taj Samudra in the afternoon, and at Hotel Concord, Dehiwela on Friday evenings and at the Grand Oriental Hotel on Wednesday evenings.
If Eda Rae is one of your favourites, then we invite you to be with us to enjoy our singing.