Sinhala translation of Same Sky, Different Nights launched
"Memoirs are the backstairs of history." - George Meredith
A history composed from personal experience and memory is beautiful to share with the whole world. Dr. Nandasiri Jasentuliyana has shared his personal experiences through his memoirs Same Sky, Drifferent Nights with the whole world. He carries an important message to the youngsters through his book.
There is nothing in this world a girl or boy cannot achieve with devotion, determination, education and hard work is the message the book carries. This story is presented in such a way that it is easy to follow.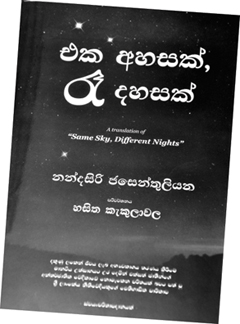 The Sinhala translation of Same Sky, Different Nights by Nandasiri Jasentuliyana was launched at the National Archives Auditorium recently. It was translated by Hasitha Kekulawala.
Same Sky, Drifferent Nights was published by Vijitha Yapa Publications. It was launched in the United States. It carries an introduction by Dr. Ananda Guruge who instigated the author to tell his remarkable story to the world. The autobiography was initially set in the socio-cultural and educational history of Sri Lanka. It is an exceptionally informative and entertaining work.
Jasentuliyana describes his humble beginnings in Ambalangoda, his sports oriented youth and the successes and stresses of his carefully directed education.
The Sinhala translation is by Hasitha Kekulawela, a graduate from the University of Sri Jayewardenepura.
Jasentuliyana was educated in Sri Lanka, England and Canada before taking up a career at the United Nations. He recounts the triumphs and tragedies of his adult life with humour, perceptiveness, and profundity. The book uniquely interweaves a historical and cultural environment into a rapid moving and exciting career which expands to the broadest dimensions of the universe through his role as Director of the United Nations Office of Outer Space Affairs.
- HI