Premajayantha asks:
Is April 23 auspicious?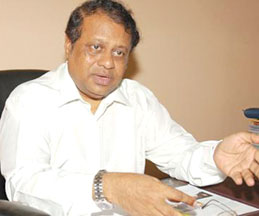 UPFA General Secretary, MP Susil Premajayantha, challenged the UNP-led government to effect the necessary constitutional amendments or hand over governance to the opposition, as it already has a 138-seat majority in Parliament, The MP, dismissive of the government's plans to dissolve Parliament on April 23, in the event it fails to garner enough support for constitutional amendments and electoral reforms, queried whether April 23 is an auspicious date?
He accused the government of wanting to dissolve Parliament on April 23 to enable certain new MPs complete their first five-year term, which milestone occurs on April 20. "Otherwise, there is no logic behind that," he said. Premajayantha said that if the government really wanted to change the electoral system, it didn't need to limit itself to a short timeframe "It doesn't matter whether they take another one or two months, as the present Parliament can continue until April next year," he pointed out.
He urged the government to stick to its promises of constitutional reforms to prune the powers of the Executive Presidency and change the electoral system made in the hundred-day policy statement.
Meanwhile, Justice and Labour Relations Minister, Dr. Wijeyadasa Rajapakshe told the Sunday Observer that the government was trying to reach a consensus with all political parties and simultaneously pass the 19th Amendment and the electoral reforms bills within the stipulated timeframe of hundred days.
He claimed that the UNP and the SLFP have no big issue on this. "There are two or three optional formulas that we have agreed upon on principle. In addition, there are two sides of argument. From the people's perspective, they also expect there has to be some changes," he said, adding that at present the electoral reforms issue is being dragged due to minor political parties.
"However, we don't want to eliminate them from the democratic process without giving them a chance to have a reasonable representation in Parliament," the Minister said.
Dr. Rajapakshe said he is confident the government would be able to reach a consensus with minor political parties and pass both these important pieces of legislation simultaneously in Parliament within hundred days.