Woman to sell house and marry the buyer
If you are interested in buying a two-bedroomed house in Sleman, the sleepy little district near Javanese city of Yogyakarta, Indonesia,which include a fish pond, a spacious backyard for n76,500 dollars you will have to read more details in the online advertisement.
But the only hitch about the offer is that the buyer will have to marry the owner Winn Lin, a forty-year old widow.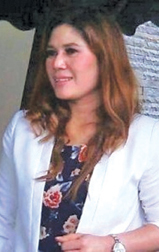 The online ad featuring Lia's home mentions that the buyers who don't negotiate the price can ask the owner to marry (terms and conditions apply)." The ad promptly went viral, with local news agencies tracking Lia down to check if the claim was genuine.
Lia, who is a single mother says that her realtor came up with the idea after she had expressed a desire to find a partner again. She revealed that she has had trouble finding a suitable man after her husband passed away in 2000. She has gone on a few dates since then, but never managed to find another Mr. Right.
So when realtor Dian Purna Dirangtara suggested she include the marriage offer in her ad, she thought it was a great idea. "Dian suggested I put up the tagline 'Buy the house and marry the owner at the same time,'" she said. "And I said O.K. to it. I'm looking for a husband anyway."
But Lia insists that her main priority is to sell the house. "My goal is that this house be sold. But if I meet another partner, it is important that he be single, whether a bachelor or a widower, responsible and mature," she said. She added that her potential partner would have to be a good father to her children, and a religious man who wouldn't object to her wearing a headscarf.
"Every night I pray and ask God to give me a good husband, and that the house be sold. I cannot bear this burden alone," she said.
Believe it or not, her quirky proposal proved to be a big success. Not only is it gaining international attention, but she's also getting a lot of phone calls from property buyers and would-be suitors. However, she reiterated that marriage is only an option available to the buyer. "If someone wants the house, they can have that.
---
Seven-year-old 'walking encyclopaedia'
We normally refer someone who will tell you anything and everything about something or some important event a "walking encyclopaedia'. But when a child of seven begins to tell you details ranging from economic statistics, politics or any other subject you'll be flabbergasted.
You may not believe but this is true and correct regarding seven-year-old Kautilya Pandit of Kohanda, village, Haryana, India.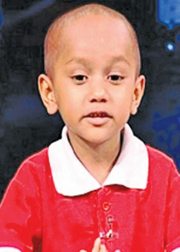 Little Kautilya has turned out to be a national celebrity by his superior ability to memorise information about 213 countries, their population, GDP, source of income, currency, religion, culture and heritage.
Kautilya regularly travels to schools across India, answering live questions from other children, on stage. In one of his latest appearances, he was asked unusual questions like the total surface area of Vatican City, the GDP of the UK and more. He was able to answer them all with ease.
Kautilya's ability to absorb information and his photographic memory have earned him the nickname 'Google'. One of his finest moments was when he got to be a part of the TV show Kaun Banega Crorepati (India's version of Who Wants to be a Millionaire) in 2013.
"That genius kid Kautilya Pandit, just above five years and answers questions that many scientists and knowledged (sic) persons could never (answer)," the show's host, Amitabh Bachchan, had posted on Twitter.
He prefers to share the credit of his brilliance with his guardians. "I guess the best thing is that I was lucky enough to have parents and teachers who realised I had a gift and who have helped me develop," the wonderkid said. "I don't have friends in my class," he added. "My grandfather is my best friend. I don't know why I am different but I know I am curious about everything, and keep asking questions, but in my case the answers just remain there."
Needless to say, his parents are quite proud of his achievements. "Kautilya is God's best gift to us. He is very curious by nature and is blessed with a photographic memory," said his father Satish Sharma. "We noticed Kautilya's unusual talent that was way beyond his years, but could never imagine that he is an ocean of knowledge. It all began in his summer vacation when he would spend a lot of time studying the atlas and other books. And then began the questions.
All our answers were met with a fresh question! He understands things and that helps him retain them."
---
Man throws 13 punches in one second
I am sure no one would like to confront him on the street after hearing his reputation as the world record holder for the most punches in less than a second.
Ian Bishop, the mixed martial arts expert from Wales recently showed off his prowess of executing 13 punches in one second at the Academy of Hard Knocks in Aldershot, England.
Youngsters at the Academy were dumbstruck as they watched Bishop's blizzard of blows in the time it takes to blink an eye.
Sam Rowe, a former prisoner who runs the project to keep young people with behavioural problems on the straight and narrow, said "It was awesome.
So keen was Rowe to introduce the machine gun puncher to the 14 to 28-year-olds he is mentoring, he drove all the way to Barry in Wales to fetch him to Aldershot, before driving him all the way home after the session.
During the class Mr Rowe took a turn holding the pads for Mr Bishop, who founded the devastating Transporter System of fighting.
"He nearly knocked my arm off," he said. "When you get hit by him you know there will be another 12 coming."
"They got so much out of it. They'll be talking about it all weekend.
We are exhausted, but it was so worthwhile. Ian Bishop is up there with Bruce Lee, he's a legend."
"When you get hit by him you know there will be another 12 coming." Ian Bishop was recently inducted into the Martial Arts Hall of Fame.